UMass Amherst: Is it the Right UMass For You?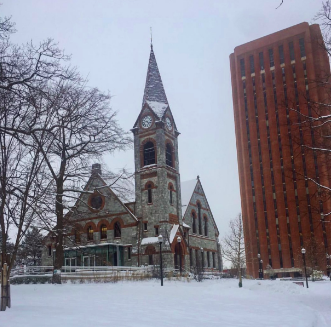 Are you ready to be apart of the Minutemen family at the University of Massachusetts Amherst? UMass – Amherst is located in rural Amherst, Massachusetts, but is only 90 miles from the bustling, beautiful city of Boston. The campus is vast, spread out, and filled with foliage and beautiful buildings. When looking for colleges in Massachusetts, Amherst is not the first city students look at, but located within the city is a university filled with opportunities for every student that walks through its gates.
UMass Amherst has an undergraduate enrollment of about 23,500 students which is larger than the 12,000 students enrolled at UMass – Boston, a rivaling school. For a student looking for a larger campus with more students, UMass – Amherst is a sure choice over other UMass schools. The larger student population promotes more diversity and opportunity for meeting new friends from around the United States and the world.
Along with the large student body, UMass – Amherst has an assortment of studies to peruse while at the university. According to US News, the most popular major at the college is Business Management followed by the Social Services major. Aside from their most popular degrees, the school offers 118 undergraduate programs, 76 masters programs, and 48 doctoral programs, so every student has an abundance of choices when choosing what to study.
Liana Gudin, a Hills alum, and current UMass-Amherst senior is majoring in communication and sociology after being undecided her freshman year and says, "The school helped decide what I truly wanted to do."
UMass – Amherst also has an outstanding athletics program for aspiring student-athletes. The college competes in NCAA Division I sports, where 12 of their 13 sports programs, except football, play against other Division I schools, like University of Rhode Island and Fordham University. However, if a student is not an athlete, this opportunity allows for a bustling sports season and a more united community.
Liana Gudin further explains her time at UMass Amherst and says, "I highly recommend joining clubs, and UMass – Amherst has so many, whether it be Greek life, clubs relating to your major, or sports teams, it helps you make friends when your first get to college."
The school has an array of clubs for all different interests, from the arts to gaming, and joining them is the best way to get all you can out of the school. The athletics, clubs, and academics make UMass Amherst a perfect college to put on your list while choosing what schools to visit.