Go Badge or Go Home
There is undeniably nothing better than taking those first few steps onto a college campus and feeling like you are already at home. This is exactly how anyone would feel when they step onto the campus of The University of Wisconsin, Madison.
UW-Madison is a public research university with over 200 undergraduate majors, located in the bustling city of Madison, Wisconsin's capitol. The main drag on campus, State Street, is the epicenter of entertainment, shopping, and of course, #EEEEEATS. You can enjoy a Sunday brunch with friends at The Shortstack Eatery, (although the line is always long, rest assured, the pancakes are one hundred percent worth it), shop for one-of-a-kind pieces at Ragstock, or study at one of the many trendy coffee shops.
At one end of State Street stands the state capitol, which makes for a great photo-op, and at the other end, Bascom Hill, where most of your classes meet. So, if you're looking for a balance between city and campus, Wisconsin certainly provides all that and more. It's a large school, with about 43,000 students (both graduates and undergraduates), and yet, it feels so small because of the intimate connections you make with your peers, and the outrageous level of spirit that unites everyone under the love for a single place.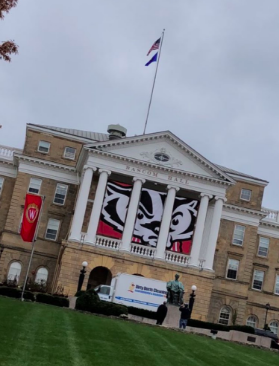 Photo by Avery Paulen
However, being a Badger isn't all about "jumping around". Wisconsin has a 54% acceptance rate, which continues to decrease annually. However, if you are a, well-rounded, goal-oriented student that puts forth the utmost effort in everything you do, the odds can definitely be in your favor.
Sam Barbara, a sophomore currently enrolled at Wisconsin and former Hills student says, "As a student at UW, I can say that I am eternally grateful for the opportunities that this university has given me. The options of things to study are limitless and are ways to expand my knowledge both inside and outside of the classroom. My professors are always finding new and exciting ways to make lecture interesting and intriguing. Also, the people are so nice and the food on State Street is out of this world!"
Students invest the majority of their time in their work, while still managing to maintain a balance with their social lives. In fact, 49% of male students and 51% of female students are involved in Greek life. If that isn't for you, there are several other clubs and organizations you can get involved in.
In terms of the living situation, there are a plethora of options for you to explore. Two of the most popular are the dorms, more specifically, Sellery and Witte, which are state housing, and the Statesider, which is private housing with different layout options, located on State Street. Each provide a unique, yet diverse experience, but overall, that doesn't distract from their main purpose: to create lifelong friendships.
Class of 1993 alumni, Jodi Paulen, states "UW Madison is still a place I call home. I'm still just as close with the friends I've made almost 30 years later. I loved having the opportunity to share my 'happy place' with my daughter on our recent college visit."
Most people tend to think that Wisconsin is all about the cold, which isn't necessarily true. There are a plethora of activities to do in the cold and the warm. One of the most popular destinations on campus, The Memorial Union Terrace, located right next to the beautiful Lake Mendota, is home to all student life. During the spring and late summer, you can enjoy concerts, swim in the lake, sail and kayak, or lounge with friends in the famous colorful chairs. In the winter, you can get warm and cozy around the fire at Der Rathskeller, a restaurant with a German beer haul feel.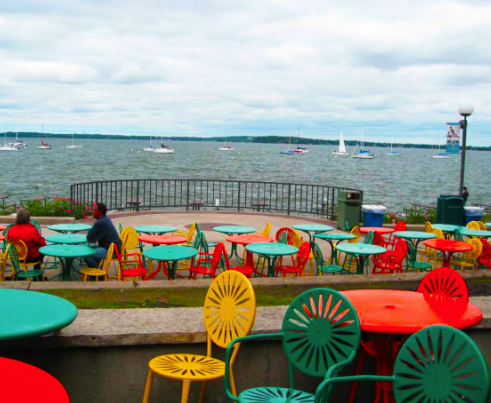 Photo by Avery Paulen
If any of this sparks your interest, than you should definitely invest in a visit to the University of Wisconsin, Madison. ON WISCONSIN!!