B U at Boston University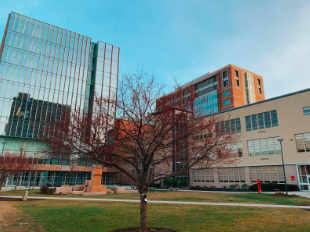 Located in the perfect middle point between the city of Boston and the suburbs, next to Fenway Park, and filled with activities, Boston University is the place to be! For a student looking for a flexible campus with several options, BU is one of the best colleges located in the beautiful city of Boston, only 4 hours away from home.
Boston University is located alongside the Charles River, making it the perfect urban campus for students looking for constant activities. With an undergraduate enrollment of over 16,000 and designed to have most of the campus located on about 134 acres, Boston University has a simple layout across its 1.3 miles long stretch. The T, the public transportation system in Boston, runs through BU and has three stops, one for each part of the campus, and it is one of the easiest ways to get to Boston from campus. Though it is located in the urban city of Boston, there are stretches of grass throughout the campus where students can relax, especially at places located next to the Charles River. Not only is Boston University in the perfect location, but the layout allows for everything to be within a few miles distance, perfect for college students.
Academically speaking, Boston University was ranked by U.S. News & World Report as the 42nd "Best University" in the United States. The school prides itself with having a Tier 1 research program with over 2,000 research labs on campus (yes, you read that correctly) as well as being 1 out of 60 United States universities in the prestigious Association of American Universities. Students have the options of choosing from 10 undergraduate schools and a wide array of over 250 majors and minors. And, with whichever path you choose to take, the classes will always feel personalt, as the average class size is about 27 students and there is a 10:1 student-to-faculty ratio. The universities' schools are extremely highly ranked, with U.S. News & World Report ranking BU's School of Law at 22nd in "Best Law Schools" and ranking BU in 29th in "Best Medical Schools: Research." The College of Engineering at Boston University was also ranked 35th in "Best Engineering Schools" by U.S. News & World Report. For students looking for a college with several study abroad opportunities, BU has a wide variety of over 100 programs, priding itself in this aspect as it was one of the first universities to send students abroad and the first to offer study abroad for internship opportunities. In fact, there are over 4,000 internship opportunities worldwide for BU students looking to travel.
Athletics wise, Boston University is a NCAA Division I school, with more than 20 NCAA Division I varsity sports, according to U.S. News & World Report. The school's hockey team has won several NCAA championships, making the Terrier experience lively and full of cheering on your team, whether for hockey or basketball.
Boston University is a school where students are always given several options, whether that be programs of study or club choices. The lively city of Boston only adds onto this open atmosphere, allowing students to be able to stay on campus and travel into the city as well. No matter what type of student someone is, the options given to them at this well-rounded university will allow them to be able to be themselves at Boston University. Go Terriers!