Cowboys in College: Life After Hills
In this article are accounts by: Allie Funtsch, PHHS Class of 2015, Ithaca College Class of 2019 John Aquaviva, PHHS Class of 2016, Salve Regina University Class of 2020 Jake Kroner, PHHS Class of 2017, Tufts University Class of 2021 Talia Boyajian, PHHS Class of 2019, UPENN Class of 2023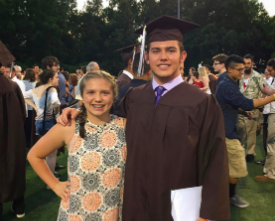 After high school, Pascack Hills alumni can be found heading in different directions. For a majority of the graduating student body each year, that decision is usually to further one's education at a university, whether that be somewhere close such as Rutgers or as far as the west coast. Though Pascack Hills seniors may shmooze through their senior year, alumni of the past few graduating classes at Hills emphasized the impact their high school education had on their future in college. To find different opinions and views, four different Pascack Hills alumni shared their experience, whether that be post-college or from a freshmen point-of-view, to allow students at Hills to understand the key things to remember from their education and what to throw to the side.
In terms of academics, PHHS alumna Allie Funtsch, who graduated from Ithaca College this past spring, stated that she found Hills to prepare her for her next four years at Ithaca. "Academically I think Hills did a really good job of preparing [students] for college work," Funtsch began. "When I entered college, my writing skills and work tolerance were higher than all of my peers as well as my technological skills. I think having the laptops was a huge advantage. My skills in word, google docs, excel, etc. were way ahead of other students."
Jake Kroner, a junior at Tufts University, agreed, but cited other attributes of the school. "Hills prepared me because it offered AP classes that allowed me to learn at the college level, taught me the importance of time management, let me collaborate with classmates, and helped my organization."
Though both Jake and Allie attended Pascack Hills, Talia Boyajian was able to give a more modern take on the school curriculum as an alumna of the Class of 2019. She noted that taking AP classes during high school made the transition into college much easier. This is not a shock; according to The Princeton Review, "[AP courses] could ease your transition from high school senior to first-year college student," and are as challenging as "introductory college courses." Hills' ability to let students take several of these AP courses makes the move easier undoubtedly.
  In terms of athletics, the department at Pascack Hills has left a lasting impression on those who've graduated. John Aquaviva, alumnus of the PHHS Class of 2016 and now a senior at Salve Regina University, played collegiate football his freshman year and reflected on his experience as an athlete at PHHS. "Hills athletics, especially the football program, do a great job with player development on and off the field. Coaches really care about you more than just as an athlete," spoke John, a part of the football program for all four years at Hills. "They want to see you succeed in the classroom, in your community, and as a person."
 However, a major thing Talia Boyajian wishes she had been more accustomed to before entering college was midterms; at Pascack Hills, though there is a midterm "week," it is not as rigid or a set structure for every class. "The only thing I wish Hills did to prepare me more was have a more rigid midterm/final system. Now that I'm taking finals here [at UPENN], I wish I had the stamina to prepare and study for them, which is something a lot of my college friends learned in high school but I am still adjusting to."
In regards to advice to students at Hills, John Aquaviva said this: "The biggest difference in college is the amount of time you have to complete assignments." 
This is no shock to some, but for others a heavy workload can seem overwhelming or outright unbearable. Entering college in the right headspace can, therefore, make a transition from high school to college smoother.
In summary, the overarching take by the four alumni was this: overall, Pascack Hills and the PVRSD will do as much as they can to prepare you for your future, but it is in a student's own control to be able to get something out of what they are given. At the end of the day, most high schools try to make sure that their students put their best foot forward once they graduate, and for Pascack Hills there clearly is no exception. Sure, there are some things that every student could critique, but the clear message is that at Hills, the faculty are here for your best interest and wish to see you succeed.