Franceski launches wellness program for students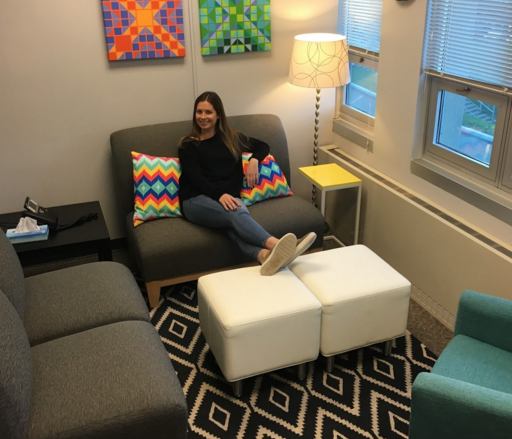 Erica Franceski, Pascack Hills' new student family resource liaison and past guidance counselor of 12 years, has began creating programs for student wellness. Some of the programs, such as Power Hour, have already started, while others are still in the works. These wellness programs are designed to help students with anxiety, time management, and personal issues. Many different activities will be put into place for all students to be a part of.
Guidance counselor Marin Donnelly, has displayed her support, stating , "I feel that the wellness program initiative is one that will speak to students as they tackle the many hurdles of being a teenager, the stress and anxiety of college applications, the pressure to perform academically, and to meet their own goals but also the goals of their families in some cases. The wellness programs really addresses those needs in a school setting, which I feel is essential in this day and age."
During the summer, Franceski had made a support-like group for the in-coming, out-of-district freshmen. Although the group consisted of only five students, it allowed for bonding and support. The group touched upon various stresses of coming into a new high school knowing few to no people inside of it. They talked about their worries, hopes, plans, and made a group of friends in the process.
Freshman Annika Patel states, "This group helped me create a group of friends that were in the same situation as I was and it helped me feel more relaxed about starting at a new school."
Franceski created another support-like group for the seniors about their stresses on college admissions and everything that comes along. Each group of seniors are brought in during PE to talk about their experience in the admissions process and how they are feeling about leaving Hills.
Power hour, which launched in September, is a program that occurs every Tuesday, Wednesday, and Thursday from 3-4 p.m. after school in the media center. During this hour student tutors are available for subject specific homework, support, and coaching. It is a comfortable place for all students to go to for an hour of supervised time for homework.
During freshmen seminar, Franceski is teaching the "Do What You Are" lesson, where they will analyze their personality and through the results and figure out what type of career path is best for them.
Hopes are to create a wellness committee made up of students and staff. This committee will come together to brainstorm on how Hills can create programs designed for all different groups of students, to better students. Emails will be sent to recruit students to be part of the committee.
Positive results are already being seen. Principal Glenn DeMarrais says,  "Though it has only been a few months since we initiated the wellness center, early indications are that students and parents alike have found the Wellness Center to be a great resource and Ms. Franceski to be a skilled and caring professional.
As principal, I have already used Ms. Franceski as a resource on multiple occasions this year to assist students and parents with both minor and serious issues. I am thrilled to have Wellness Center as a resource for the Pascack Hills Learning community."
Franceski repeatedly stated, "Mental health is for everyone" and the programs hope to reflect that ideology. Franceski is accepting suggestions for the wellness program at [email protected].