I am More Than My Grades: Evan Michales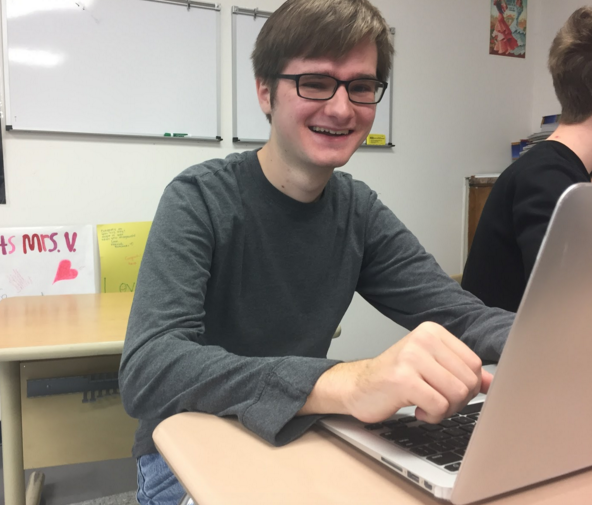 Everyday students walk into class so that they can learn something. For the majority of students at Hills, the purpose of learning is just to get good grades. The cloud of stress that is caused by grades is looming above students, but grades aren't the only thing that matter.
Evan Michales, an AP Scholar and current senior, is more than just his grades.
Michales said, "People have the idea that high school students are doing like 10 clubs and are in all AP classes are crazy, but it's like you have to do things other than school, otherwise you aren't going to stay sane."
According to Pascack Valley Regional High School District's website, for Michales to have become an AP Scholar, he had to get a three or higher on at a minimum of four, full-year AP exams and have an overall AP exam average of 3.25 or higher.  
At Hills we strive for the best, almost to the point that it becomes our life. Michales said, "It's like a C is supposed to be average, but it's not because we are hypercompetitive. So I have always strived for nothing less than a B-, but if I do get a C, I know it's been a tough year and I'll try to do better."
Michales' twin sister, Jillian, said, "Grades are really important for him, but also at the same time they aren't everything. My whole family is really together and united, so we don't just focus on the books, but we go out and do other things that will help us in the future, like volunteering."
Counselor Gale Mangold says, "That's probably the greatest thing to note, that a student needs balance. They need to be having enough sleep, they need to be having enough exercise, and diversity in their activities along with their academics, so that they are successful as a person and well rounded as a person and healthy."
Jillian Michales said, "I definitely see the stress, you know he's a pretty low key person that doesn't mostly have a lot of stresses. Every once in awhile he freaks a little bit and gets stressed, but whenever he does we just talk it out or watch a movie together so that he can chill."
Michales has a lot more than just grades to care about.
He is an Eagle Scout for Troop 334, and has made many strive within. Michales says, "I've been doing that for most of my life probably now. And it's just something I've always done and people don't always see often." Eagle Scout projects have taught him that, "Things seem a lot less difficult when on paper, and when you go outside to build it you're like 'This is a lot harder'."
Michales also shared that he is Editor-In-Chief of the Echoes Literary Magazine. Michales shares, "I was first drawn to science and math, but it started to lose me. So, like, with writing it's cool, because you have stories, you got all sorts of worlds that you can generate. It helps with the mind."
And to add to the list of credentials, he is one of  the leaders of Model UN. Michales shares, "Well with Model UN, I have been doing that since sixth grade, and now I am one of the leaders. I have won a couple awards and I have bought some countries for a lot of money, which was one of the best experiences."
Jillian Michales says, "We both do Model UN together, which is a club about talking with other people. Mostly we are partners and normally I am the one who's talking more while he isn't, but by the end of the conference he is making jokes and everyone is able to get to know him better."
During the interview, I had asked Michales about where he believes is best to see him in his element. He responded, "This [the library] is mostly my environment. It's like reading a book in the quiet, you can just escape in the book and not care about the clock, until you realize that you have to go home now".
The testing that Michales has had to undergo has affected what he wants to do in the future. "On the US [A.P. U.S. History] test I got a five [the highest AP testing grade], so I guess I am going for history. The testing probably does determine my path, I am in the AP world and the testing is mandatory, so I think some classes the AP test determined a lot."