Spanish Exchange Students Visiting Pascack Hills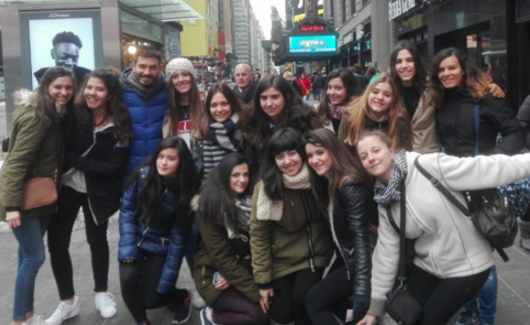 Spanish exchange students were visiting Pascack Hills from International Education of Students (IES) Infante Don Fadrique in Toledo, Spain. Students were here as a part of the language department's current Spanish IV exchange program. They were walking along both Pascack Hills and Pascack Valley's halls from March 17 -25.
Valley Spanish teacher, Dorely Leal-Drago, explained that the exchange originally began with a simple teacher communication program on Skype, where Leal-Drago and English teacher at Don Fadrique, Leyre Pérez Quiroz, began to communicate. This is the second year that the district has been exchanging with Don Fadrique.
Many good things will be taken out of this trip for both the students from Hills and Don Fadrique. Pérez Quiroz said, "They are practicing [the English language], they are making new friends, and I think they are learning about different lifestyles, different culture. And they are also having a new experience in life, which is very positive for their future."
Not only is this trip one to explore new land, but to explore a second language.
Pérez Quiroz said, "There are many things that they are learning [while in America]. For example, they are practicing English; it is not the same for a Spanish teacher to speak to them and for them to listen to real English."
Valley Spanish teacher, Courtney Farrell, said,"They are getting the opportunity to see how well they can communicate using these second languages that they both been learning in schools. I think they are learning that what some things that they see on TV is not necessarily  what real life here is like, and vice versa. And, they are making friends that will last a lifetime."