Dessert Review: 'Rolling' with the Rolling Ice Cream Hype
Flooding social media and reviewed by amples of food bloggers, the East Asian rolled ice cream has begun to make an appearance in cafes and food stands in America. Sprinkled with toppings, ranging from fruits to gummies to marshmallows, the five rolls of ice cream with flavors as ordinary as chocolate, to as unique as black sesame, have replaced the aesthetic image of regular "fro-yo".
Originating in Thailand, this dessert is known as a street-style and on-the-go, sold on the side of the road. My own mother, who was born and raised in Taiwan, would rush to a stand after school on a hot day to buy her own share of ice cream (known as "stir-fried ice cream" in her country). Although it was common back then, it was still a delicacy to the children, who would gather around the ice cream maker and shout out the different fruits they wanted to be added.
The process of making rolled ice cream is as simple as it sounds: a milk base with various ingredients (of the desired flavor) is poured onto a grill that is chilled to 35 degrees celsius. Once the mixture crystallizes, it is stirred until creamy, and removed from the grill with the spatulas in rolls: the process taking about 10 to 15 seconds. Traditionally eaten with fresh fruit, the product is now "beautified" with extra toppings and sweets for the photogenic image.
I decided to experience the current hype myself; the last time I've eaten rolled ice cream was a year ago in a small shop called 10 Below in Chinatown, New York. This time, however, I've decided to taste test a local stand called The Rolling Cow in the Garden State Plaza Mall, a popular hangout spot for teenagers in our area.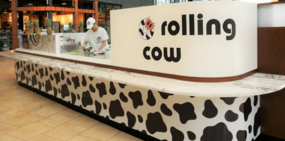 Located in the wing left of the AMC theaters, the stand attracts young customers and is typically busy during the weekend rush, with lines stretching past the nearby stores. Quaint and decorated with its logo, The Rolling Cow has about three to four workers on a daily basis, and their friendly service adds to the unique experience as a whole. Accompanied with coffee tables around the area, the busy yet laidback aroma has created a welcoming atmosphere for its customers.
I decided to order one of their signature flavors called Classic S'mores. Though I've seen it before through social media, and in person, the process that lasted only a few seconds was just as intriguing as the first. Pour, dice, mix, stir, and roll. Yes, I knew the ice cream that was being produced was essentially the same as the pints I could get at the supermarket, but the mini show in front of me was too mesmerizing to look away.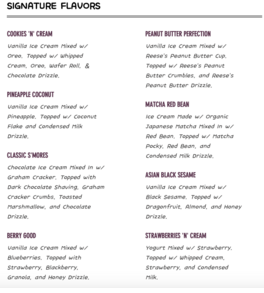 Expecting my first bite to be full of flavor and richness of the traditional "s'more," to my disappointment, it fell a bit short in terms of flavor. Not having much of a sweet tooth, I prefer my desserts to have a balance in sweet and bitter; yet, The Rolling Cow didn't offer me a reprieve, and I became overcome with sugar (later grabbing a cup of coffee to wash it down). However, the texture of the ice cream was surprisingly smooth and packed tightly into the cup for the amount of orders the stand was dealing with at the same time. The presentation had no flaws—neat and appetizing, I didn't hesitate for a second before snapping a picture for my friends.
For a dessert at the price point of $6.50 ($7 with tax), rolling ice cream, not only at The Rolling Cow, can be treated as a splurge on a current food trend. While the presentation is impressive and very "instagram worthy," the quality certainly doesn't hit the perceived expectation, as a scoop of homemade gelato is reasonably priced at around $5. Although it is entertaining to watch the process of your dessert being made right in front of you, it's not a product that will draw in recurring customers. The money I was spending was not for the dessert itself, but instead, for the performance of constructing a unfamiliar dessert from Asia.
The hype of rolling ice cream is not startling—with the amount of social media today, it is anticipated for such a different food trend to be spread to young adults. Yet, a food trend holds its title as a "food trend," and does not exceed in quality, detail, or flavor of the dessert. Rolling ice cream is a dessert one must try at least once in their lifetime, but definitely not the go-to when a gallon of creamy chocolate chip ice cream can be purchased for a cheaper price; but, I must admit, even I'm a devotee for a good photo opportunity once in awhile.