Catie Ernest Earns Athlete of the Week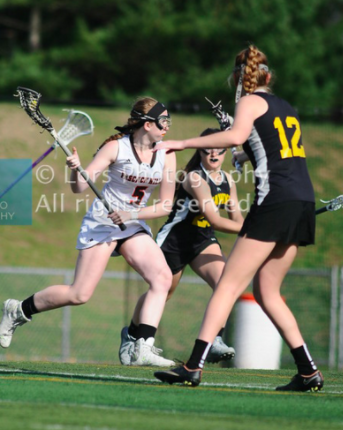 Ryan DiCaprio
April 26, 2017
As most people at Packsack Hills know, as you walk out of the front gym toward the main hallway, you come across a wall filled with drawings of past and present Hills students. This wall holds the faces of some of the greatest athletes Hills has ever seen, and will soon hold the one of Caitlin Ernest (Catie), for her achievements in lacrosse. She recently scored her 200 goal, with 18 this season.
Before her life as a Cowboy, Ernest grew up playing softball, which is what eventually got her into playing lacrosse. In seventh grade, Ernest's father, Mr. Ernest, one of the Physical Education teachers and coach of the girls lacrosse team, used to coach softball, and one day Catie and her sister decided to go to one of their practices.
Upon arriving there, the sisters realized they had forgotten their gloves, so they looked around and found two plastic lacrosse sticks in the gym to use instead, they began to use them, and as soon as it happened, they fell in love with the sport.
In eighth grade, she joined clinics, camps, and anything she could. The next year, her first year at Hills, Catie joined the lacrosse team.
As Ernest's father and coach, when asked how it felt after she scored her 200th goal, he said, "I feel very proud of her for reaching this extremely difficult milestone in scoring as I would for any player of mine that accomplished the same feat. As a father, I have always told Catie that you will get out of athletics exactly what you put into it. I know how hard she has worked and dedicated herself to this game and this milestone is what she got out of all that effort."
Two hundred goals might seem like a personal achievement, but Catie says that, although it is something she never dreamed of doing when she started playing originally, her real goal is to do anything she can to accomplish something as a team, like winning a league championship.
She gives credit to her teammates for her recent accomplishment, as she says that her team inspires her every game and push her every practice to be better than she was the day before.
Ernest said, "I've been very fortunate over my four years at Pascack Hills to be surrounded by so many great teammates, which has helped me with my personal accomplishments and I owe it all to them.  My sister is out there playing with me and dad is coaching, so it has been fun over the years to be able to have that support system along with my teammates. It is also great having an amazing scorer and player in Phoebe Shields, who I grew up with, out there with me. We've had a lot of fun and will continue to do so."
Catie will be attending Ramapo College next fall, where she will be studying nursing. She has not decided whether or not she will be playing lacrosse, as she may want to focus more on academics.