Dr. Bill takes a final bow at Pascack Hills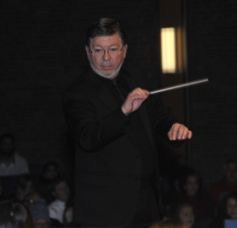 Dr. Chris Wilhjelm, otherwise known as Dr. Bill, is retiring this year, leaving behind a legacy for both the band program and his students.
He previously taught at North Brunswick High School, Ridgewood High School, and Rye High School and has had a total of 40 years teaching high school band. He has spent 33 years walking the halls of Pascack Hills.
"It took me 44 years to graduate high school," Wilhjelm said, speaking about his years learning personally and teaching in high schools.
Wilhjelm began as a professional French Horn player but eventually decided that he wanted to try teaching band.  He started teaching at colleges first.
"I wanted to dip my toe in and a friend of mine had to take a month off and asked if I could cover for him," he said about his first job.  The day before his month of substitute teaching was over, he was offered another teaching position and accepted a job at North Brunswick Township High School.
Wilhjelm teaches at colleges and gives seminars and even conducts band performances  outside of school. Even after retirement, he "suspects he will be teaching for a number of years" with college students.
His 33 years at Hills have shaped the band program into what it is today.  Wilhjelm said the administration of Pascack Hills asked him to start teaching because "things were not going super well."
"The band didn't play very well.  They had a period of time where they had been changing band directors so there was no stability to the program," he said.  "There were a lot of good kids in this band.  Once we got started and started getting to work, things got much better."
As for his students, Dr. Bill said, "I get to see many of my students for four years so I get to know them better and better."  He regretted that he "would only get to know the freshmen as freshmen."
The final concert this year is going to be almost like a tribute to Wilhjelm. Wilhjelm said,  "We're playing a lot of music and several of the pieces the students picked because they want to play it one more time and I have very mixed feelings about it."
"I am definitely going to be sad knowing this is his last concert," sophomore Susie Goertz said.  "He has been able to show me that music connects to everything and I am going to continue band even when he leaves next year."
Senior Kyle Pearlman said that he will continue to pursue the trumpet at  Vanderbilt University.  He said the best part of the class was "Dr. Bill's love for what he does."
For the incoming band director, Wilhjelm advises, "Anybody who is a finalist for the job should be a very skilled or a very talented teacher.  They should get to know the students as well as possible so when they come in they know everyone."
After the final performance at Hills, Wilhjelm plans to further pursue the French Horn during retirement.  "I don't get to practice like I used to, he said.  "It is a hope of mine to get back to work and get back to top condition."
As for his time at Hills, Wilhjelm said, "I'd like to thank the students, especially the band students, all of my colleagues, and all of our staff.  They're my good friends and I appreciated my time with these people.  To me, that makes life really rich."