From the Stage to the Classroom: Michael Lingle the Student Teacher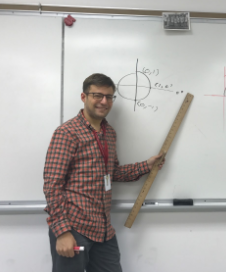 It was one week until the the show Meet Me in St. Louis was to debut at the Stagedoor Manor, a prestigious performing arts summer camp. With only two weeks time to prepare for the show beginning to opening day, there were no time for errors in casting, stage crew, costumes, and definitely no time for sudden drop-outs. Yet, Michael Lingle, a mere 16-year-old at the time, found himself in an unexpected situation when he was pulled aside by the director–the "father" in the show. He needed to leave early and it was now his job to play the part.
With only seven days left before the musical, Lingle worked to learn all the solos and duets of his character. He was to play the parts of both previously given "ensemble" and newly introduced "father." On opening night, Lingle gathered his hard work and delivered a performance like no other, ending the night in applause.
As a student teacher for Pascack Hills, working under Algebra II teacher Kevin Kirkby as well as Geometry and Calculus teacher Charleen Schwartzman, Lingle has taken his dedication from the stage to the classroom. Observing at Hills since October, he has tried to implement his belief of real life application and connecting ideas learned in math class to further the understanding for students. Lingle has tried to engage students in the class, asking questions avidly and allowing students to discover concepts rather than being handed a packet of rules.
Growing up in Ridgefield Park, NJ, Lingle grew up playing sports until being drawn into the creativity of the stage. Inspired by his high school math teacher, who casted him in his first musical as a seventh grader in a school ranging from seventh to twelfth, Lingle has developed a passion in theater while deciding to pursue his talent in math. Pushing him to his limits, Lingle's high school teacher further influenced him by still contacting him for casting and assistant directing.
Lingle hasn't always wanted to become a high school math teacher; the world of theater intrigued him a lot more as a teenager. He has been in 10 musicals, those including West Side Story and A Funny Thing Happened on the Way to Forum, three web series, and eight one-acts (Shakespearean Star Wars being one of many!). It wasn't until he was steered by his grandmother that he thought about teaching, which was when he discovered his skill in leading groups of students.
"Although I did not have the patience as a camp counselor for five to six-year-olds, though they were so cute, I found that I was a strong leader when I was a peer at my church. I had my own group of kids and I led them in several different activities," states Lingle. "This gave me a sign: teaching could be my calling card."
Leaving Pascack Hills on May 5, Lingle will begin his teaching career after he
graduates from Ramapo College. His time at Hills has shaped his perspectives on teaching and has allowed him to shape his own teaching style. While he plans on continuing math, Lingle also plans on being involved in high school musicals; he wants to direct shows such as Dear Evan Hanson, Shrek, and The Little Mermaid.
In response to his experience in the classroom, Lingle says, "Yes, of course there are difficulties, especially in the beginning with so many new tools. However, in such a hands-on environment, it's either sink or swim and I found that all I had to do was work a bit harder to find that life preserver. I want to continue to swim."
Viewing his student classes as a family, especially his calculus class where he has been the longest, Lingle is reluctant to leave Pascack Hills. From observing to teaching the classes personally, he feels connected to both the students and the curriculum.
Lingle states, "I honestly loved it [this experience]. I will miss all the students and everyone here has been wonderful and very supportive. I could not ask for a better student teaching time."