On the front line: Hills alum reflects on fighting pandemic, receiving vaccine
Lauren Canciani, a 2016 Hills graduate, has been on the front line of the Covid-19 pandemic –– her first year as a registered nurse. Now, she's vaccinated.
Lauren Canciani, a graduate of Pascack Hills' Class of 2016, became a registered nurse in 2020, a year that strained hospitals and frontline workers due to the Covid-19 pandemic. After receiving her Bachelor of Science in Nursing from Duquesne University in May, Canciani passed the NCLEX in early June and began working at Hackensack University Medical Center in August through their new graduate program. Canciani recounted her experiences from August to January to the Trailblazer, even explaining her own experience of receiving the Pfizer vaccine.
Working her first few months
Initially, Canciani worked on 4LW, a Cardiac Stepdown Unit. "The step-down unit is considered less critical [than] the ICU, where patients will go after the ICU when their status is improving, but more critical than a med-surg floor. It's an in-between from normal units and the ICU, hence the term 'step-down' or intermediate care is used sometimes to describe it," said Canciani.
At the time, Canciani was working in what was considered a "clean" unit, where there were no known Covid-positive patients. During "normal times," the majority of her patients are pre- and post-operative cardiac surgery and, since at the time she was not in a Covid-positive unit, she was not wearing personal protective equipment such as gown, gloves, and goggles every time she entered a patient's room.
This began to change as the country saw cases begin to rise throughout the fall, and Canciani's unit began seeing Covid-positive patients. Canciani recalls beginning to wear her N95 mask in late October in anticipation of encountering unknowingly positive patients: "I never was sent to a Covid-specific unit since I was still being oriented from August to early December, but after we had patients test positive, my unit was required to wear N95 masks the entire time we were there and goggles every time you entered a patient's room."
Handling Covid's winter surge
December and January brought in a series of changes to Canciani's unit, which began caring for patients from other units that had turned into Covid units (any patient who was sick coming in through the ED but didn't need to be in an ICU).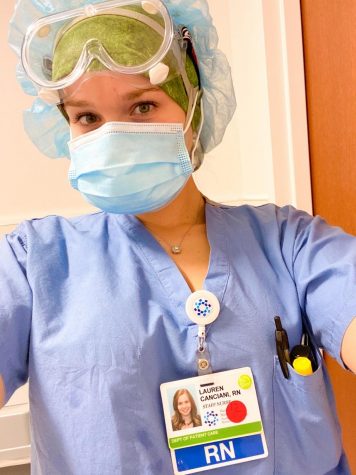 Now taken off of orientation, Canciani finally felt reality begin to set in. "To walk into someone's room to complete a task in the middle of the night while wearing an N95 mask, surgical mask over it, goggles, gloves, and a surgical cap to protect my hair must be really scary to the patient I'm waking up, especially if they're confused. I probably look like an astronaut to them!" she laughed.
"Sometimes it's tough, because I have to say out loud to my patients, 'I'm smiling at you even though I know you can't see!' I make it a point to show them my badge with my picture on it when I go in their room at the beginning of my shift to introduce myself, so they at least have some idea of what I look like," added Canciani.
She recalled stories of running around during shifts, sweating from the amount of PPE, while trying to do the best for her patients. Since December, she has been caring for extremely ill patients on ventilators, an experience she did not expect but one that has taught her about the importance of nursing.
"I honestly feel blessed that I started at this time –– even though it was probably the most difficult time to start as a brand-new nurse –– because it will make me so much more well-rounded. I did not expect to be doing this early on, in my unit, since that isn't our usual patient population… but these experiences, although scary, have taught me so much about not only nursing, but my strength as a nurse and as a person," she reflected.
Receiving the vaccine
Lauren received the first dose of the Pfizer Covid-19 vaccine on Dec. 23, and the second dose on Jan. 12, 2021. Immunity kicks in seven days after receiving the second dose of the vaccine, so that is when she was considered 95% immune to the virus. Canciani reflected on her opinions regarding the vaccine, sharing that she was initially wary of receiving the vaccine until she experienced being a nurse working with Covid-positive patients.
"If I am being completely honest, back in September and October when talk of the vaccine was picking up, I said 'absolutely not', I am waiting until there is more research done. I think this was the same reaction that the majority of my colleagues had as well.
"What changed my mind and made me want to get it as soon as I was eligible was seeing how turned upside the hospital had become during the 'second wave', since I wasn't in the thick of it during the first one," spoke Canciani.
"
I told myself that it was a privilege to have [the vaccine] offered to me and that I couldn't not take advantage of it, to not only protect myself, my family and friends, but most importantly my patients that I was taking care of."
— Lauren Canciani, registered nurse
"Although I wasn't on the Covid specific units, I would hear stories from my co-workers, and I was being directly affected by it based on how much my unit had to change. I told myself that it was a privilege to have this opportunity offered to me and that I couldn't not take advantage of it, to not only protect myself, my family and friends, but most importantly my patients that I was taking care of."
Canciani recalled her excitement growing at the opportunity to receive the vaccine as her appointment came closer. Her hospital began vaccinations in later November and early December, so she received it a few weeks after the first doses in the country were given. Front-line workers were given priority for the vaccine, as they were people who had daily direct contact with Covid patients.
Canciani signed up early for the vaccine: "I would say that about a week or two after I got my first shot, Dec. 23, is when many hospital employees decided they wanted to start being vaccinated. As January continued, vaccinations opened to high-risk individuals in the public, and that's when I saw a lot of my co-workers regretting not signing up sooner, because now we are currently at a shortage with the number of vaccinations to not only give hospital employees but to be able to vaccinate the general public."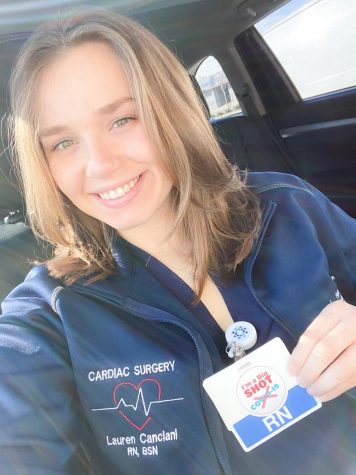 After her first dose, Canciani recalled arm soreness similar to that of the tetanus shot. For her second dose, she was warned she may experience more Covid-like symptoms.
"I received my second vaccine at 11 a.m., and by 3 a.m., the symptoms hit me: major fatigue, muscle aches, and just overall tired. No fever –– I was checking –– and I just tried to stay as hydrated as possible. I actually had to call out the next night from work because I just felt so run-down," Canciani explained.
According to Canciani, her symptoms only lasted 24 to 36 hours, and then she was feeling much better, with extremely valuable protection from Covid-19.
"I promise: a day or two of these mild symptoms were SO worth protection for my patients, family, friends and myself," she emphasized.
Leave a Comment
More from the contributor(s):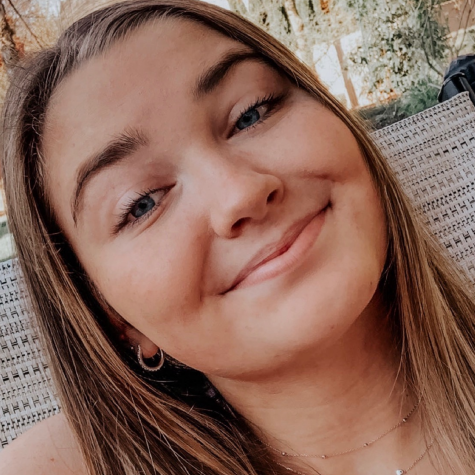 Mackenzie Blowers, Editor-in-Chief
Mackenzie Blowers is a senior at Hills and is excited to be Editor-in-Chief of the Trailblazer along with Jared Mitovich. Before becoming Editor-in-Chief, Blowers edited the College Corner section of the Trailblazer and helped manage the paper's social media. She's looking forward to working with the Trailblazer staff to continue reporting with Hills Pride.

Fun fact: She loves to travel and collects pins from every city and country she visits!