The brand new club at Hills: PHHS Med
Although the club is a probationary first-year club, co-President Lina Kim hopes that it can soon be officially recognized.
Students at Pascack Hills have gone on to follow many different career paths after graduation. From teachers and news anchors to doctors and surgeons, the Hills community has made its mark on the world. This past year, the PHHS Medical Club was initiated in order to give students an opportunity to explore one of these tremendously important career paths, develop interests in healthcare positions, and encourage potential careers in the medical field. 
The club's presidents, juniors Erin McCarty, Ethan Dontas, and Lina Kim, formulated this idea during their freshman year at Hills. They started seeking out different opportunities to expose themselves to the medical field. When they realized that there was no medical-based club at Hills, they decided to take it upon themselves to create one. In March 2020, the trio started meeting virtually to design the Med Club. 
Kim emphasized that part of the team's mission is to continue "to achieve the three E's… Expose, Educate, and Encourage."
For the Med Club, meetings the three E's are achieved by exposing students to opportunities of healthcare that many high schoolers wouldn't typically be exposed to, educating students on potential career paths in the world of healthcare, and encouraging students to volunteer their assistance by jumping on opportunities to help the community; all the while expanding their knowledge of healthcare.
According to McCarty, the club consists of "monthly rotations, each focusing on a specific topic in healthcare" such as radiology, nursing, cardiology, and different healthcare paths.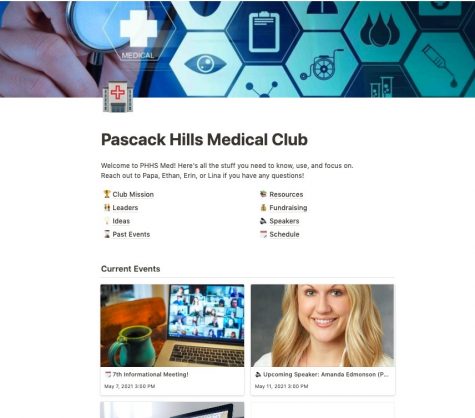 "Within each rotation, we have an informational meeting that consists of a brief review of what our topic entails, who will be our upcoming speaker on this topic, and what will be our upcoming activity," McCarty continued. "At our meetings, we've had a range of medical students from top universities to currently practicing physicians come and speak. For activities, we've done Kahoots, discussion sessions, fundraisers, and much more."
These activities allow Hills students to not only learn about the different paths in healthcare that one can choose to follow, but to generate excitement in these potential career paths. This also helps to encourage students to explore their interests in different aspects of healthcare by exposing themselves to some of the more hands-on aspects of this profession, which, according to Dontas, is one of the club's goals.
Dontas also stated that the goals of the Med Club are to give Hills students access to "healthcare professionals as well as the ability to experience the different aspects of healthcare. Another purpose is to provide a sense of community, where people with similar interests can interact as well as make a positive difference."
"
Another purpose [of the club] is to provide a sense of community, where people with similar interests can interact as well as make a positive difference."
— Ethan Dontas, co-president
As this goal is accomplished, club members are inspired to follow different career paths, and are encouraged by their fellow club members to achieve their goals. 
Although the club is currently designated a probationary first-year club, Kim hopes that the club can soon be officially recognized. She also hopes that in the future, the Med Club will be able to offer "more hands-on activities such as creating care packages for hospital patients, visiting hospitals, and gain experience with real EMS equipment."
The Med Club seeks to benefit not only the surrounding region but the Hills community. McCarty emphasized that this club is "a great way to spread healthcare awareness, a concept especially prevalent during this time. Whether it be selling mini hand sanitizers or making posters around the school to promote healthy living, there are various ways this club can help."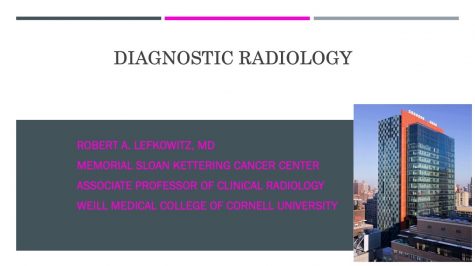 Kim elaborated that recently the club has helped the Hills community by making " informative vaccine posters that are now hung up around the school, which provide QR codes that take you to a website that can find a vaccination site near you, and provide general information about what the vaccines are and why they are important."
The Med Club is open to new members, and students are welcome to join at any point throughout the year. You can do so by emailing Erin McCarty ([email protected]), Lina Kim ([email protected]), or ([email protected]).
Leave a Comment
More from the contributor(s):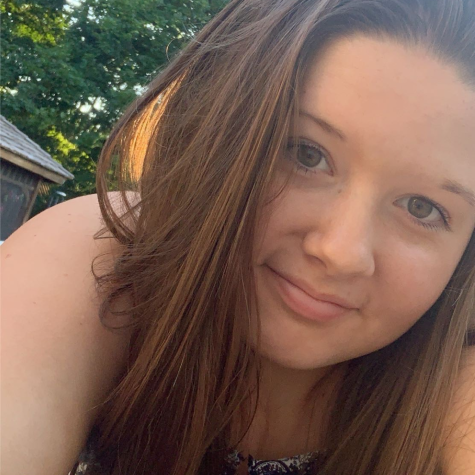 Scianna Scott, Staff Writer
Scianna Scott is a junior at Hills. This is her first year as a member of the Trailblazer team, which she joined in August as a staff writer. Scott is looking forward to a great year of writing and reporting.



Fun fact: Scott once went cliff jumping in Cozumel, Mexico!