Hills senior plans sleep out to raise awareness about homelessness
Benjamin (Ben) Levin is partnering with Covenant House to help raise money and spread awareness on homelessness.
On Nov. 5, Covenant House, an organization that provides resources to those in need of food and shelter, is going to be having a sleep out to raise awareness about homelessness. People from the organization will be speaking to viewers over Zoom, and they will be able to participate by sleeping in their backyards that night. 
Hills senior Benjamin (Ben) Levin is partnering with this organization to help raise money and spread awareness on homelessness. He wrote a book, In the Hole, which was published by Jumpmaster Press in June and inspired by Levin's desire to spread awareness on homelessness. 
Levin thought of the idea to collaborate with Covenant House while he was researching for his book. 
"They were a group I did research with, and they told me they did sleep outs. Ever since I found out, I thought it would be a good cause," he explained. 
At Levin's book launch on Zoom, 70 attendees listened to guest speakers to discuss homelessness and ways people are able to help. One of Levin's main goals for the sleep out is to reach a larger audience and spread more awareness. 
"I hope that people are able to learn about homelessness, and realize that people that are homeless are human, too. I hope I can spread the message and educate a larger audience, the Pascack Hills student body. A big school allows for a lot of potential," he said. 
Principal Timothy Wieland sent a few emails out to students at Hills with details of the sleep out, and encouraged students to register. Updated information for the event can be viewed in the flyer below: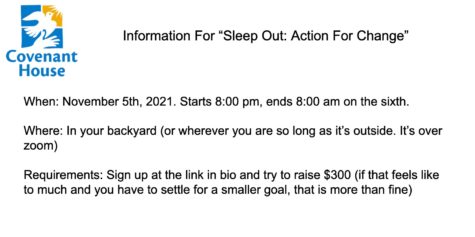 While Ben has other topics in mind to write about for his future books, he said that he wants to keep supporting Covenant House and those that are homeless. 
"I am considering making this event yearly, and am hoping to volunteer more. My mom is also making a pamphlet of everyone that spoke at the book launch, and is hoping to get that out [to spread awareness]," he said. 
Those that are interested in signing up for the sleep out can visit this link here. Those that are unable to attend but are interested in supporting the cause can still make a donation using the same link. 
Leave a Comment
More from the contributor(s):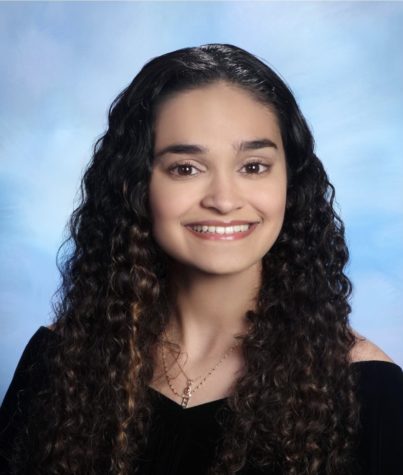 Briana Keenan, Editor-in-Chief
Briana Keenan is a senior at Hills. She joined the Trailblazer her freshman year as a staff writer and edited for the In-Depth and School News sections her sophomore and junior years, respectively. This year, Keenan is looking forward to being the publication's Editor-in-Chief and continuing to write, edit, and manage stories for the Hills community.

Fun fact: Over the summer, Keenan went to the School of the New York Times for two weeks.