Asian Culture Club celebrates Lunar New Year at Hills
There are specific cultural traditions that each Asian culture celebrates during the Lunar New Year.
Feb. 1 marked the beginning of this year's Lunar New Year. The holiday is often referred to as Chinese New Year; however, Lunar New Year is celebrated by people from several different Asian cultures. 
According to the traditional lunar calendar, it is the Year of the Tiger, which symbolizes strength, confidence, and bravery. 
In addition to the tiger, there are 11 other Chinese zodiac animals that symbolize various characteristics in the lunar calendar. Some people of Asian cultures believe that the year someone is born results in them having the same characteristics as the animal of that year. 
There are specific cultural traditions that each Asian culture celebrates during the Lunar New Year.
In China, firework displays are held at 12 a.m. for people to watch, and lion dances are performed to bring good luck into the new year.
Meanwhile, in Korea, children often play traditional games such as 윷놀이 (pronounced yut-nori or yunnori), where two teams take turns throwing four playing sticks in the air and move their pieces on the board based on how the sticks land. 
In Vietnam, their new year is known as Tet. People often share similar traditions as those who celebrate Chinese New Year–such as seeing family, eating traditional food, and watching fireworks–but they also have their own traditions, including attending flower festivals and making Vietnamese lanterns. 
While some people in Japan may celebrate Lunar New Year and festivals are held in the country, Japan does not officially recognize the holiday as part of their calendar because they shifted to using the Gregorian calendar during the Meiji Era, which lasted from 1868-1912. 
This year, the Asian Culture Club (A.C.C.) at Pascack Hills promoted Lunar New Year by hanging posters in the hallways and creating a display in the case outside of the media center. They also posted on their Instagram account about the celebration, including information about traditional food, greetings, and traditions.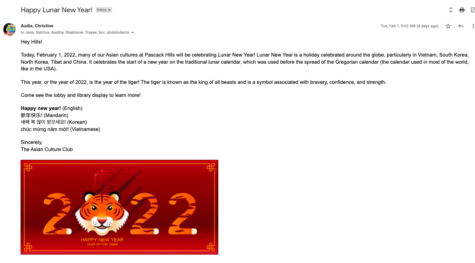 Members of the club discussed the history and traditions behind the annual celebration. 
"For Lunar New Year, my family and I typically eat a big dinner on New Year's Eve. That same night, I will call my family in China and wish them well. My dad also puts on the New Year's show that they have annually," said Hills junior and A.C.C. leader Stephanie Ye. 
Hills sophomore and A.C.C. member Olivia Ge also shared how her family celebrates Lunar new Year.
"My parents pull out all the stops when it comes to cooking up a feast for the highly anticipated Lunar New Year dinner…though usually my relatives travel back home and spend time together reunited, this year, we called each other during dinner and wished each other a wonderful new year instead in order to be safe during the pandemic," she said. 
A.C.C. advisor and Hills history teacher Jane Yeam commented on her favorite tradition as an adult. 
"My favorite part is eating the traditional new year foods like 떡국 [pronounced tteokguk] which are not typically eaten during the year," she said.
Yeam explained that tteokguk is rice cake soup, and the white tteok (or rice cake) is a symbol of purity and cleanliness that is eaten to start off the new year. 
Another tradition for Lunar New Year is that parents will hand out money to their children in red envelopes. 
As a child, Yeam also enjoyed receiving money, and explained why parents give it to their children.
"In Korean culture, 세배 [pronounced sebae] is a very important part of the Lunar New Year celebration. The younger generations will bow to the older generations and members of the family to wish them a happy new year and for a lot of luck in the new year as well. In return, the family members who receive the bow prepare 세벳돈 [pronounced sebetdon], which is money given in return for receiving a bow."  
Ye said that she receives money from her parents, too.
"In all honesty, the food and receiving the red envelopes is the best part," she said. 
Ge added, "​​My family also exchanges red envelopes filled with 'lucky' money after giving wishes of health and happiness to our elders." 
The A.C.C. leader and advisor believe that more people should take time to learn more about this holiday.
"I hope students at Hills will become more aware of other holidays that are celebrated by their peers and to become more open when learning about them," Ye said. 
"
I hope students at Hills will become more aware of other holidays that are celebrated by their peers and to become more open when learning about them.
— Stephanie Ye, Hills junior and A.C.C. leader
Yeam continued, "By bringing awareness to the Lunar New Year and the many cultures that celebrate it, I hope that the Hills community will be able to better understand and respect this holiday as not a 'Chinese New Year' but as the Lunar New Year which is celebrated by the various Asian cultures not only in our school community, but by millions of Asians around the world."
Sources:
https://www.history.com/topics/holidays/chinese-new-year       
https://www.cnn.com/travel/article/lunar-new-year-2022-cmd/index.html 
https://www.chinahighlights.com/travelguide/special-report/chinese-new-year/ 
https://www.npr.org/2022/02/01/1076304640/lunar-new-year-traditions-asian-diaspora 
https://www.90daykorean.com/korean-lunar-new-year/ 
https://www.asiahighlights.com/vietnam/new-year 
https://www.japan-guide.com/e/e2130.html 
Leave a Comment
More from the contributor(s):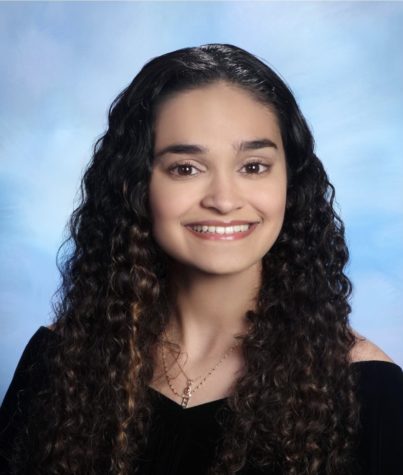 Briana Keenan, Editor-in-Chief
Briana Keenan is a senior at Hills. She joined the Trailblazer her freshman year as a staff writer and edited for the In-Depth and School News sections her sophomore and junior years, respectively. This year, Keenan is looking forward to being the publication's Editor-in-Chief and continuing to write, edit, and manage stories for the Hills community.

Fun fact: Over the summer, Keenan went to the School of the New York Times for two weeks.