Pascack Hills finds itself in mist of vaping explosion
"There's still more kids doing it than I would like to have doing it,"
"There's still more kids doing it than I would like to have doing it," Vice Principal Tim Wieland admitted. In the past few years, Pascack Hills has found itself in the midst of a vaping explosion.
It tastes like sweet mango or rich creme brulee, but a single JUUL pod has the same amount of nicotine as a pack of old-fashioned cigarettes. After technology overhauled yet another industry, tobacco companies aren't taking a "hit" as you might expect.
Instead, electronic cigarette brands like JUUL –– whose sales skyrocketed 647 percent in 2016 according to the Center for Disease Control –– are redefining nicotine consumption. The sleek, USB-like vaporizer and its plethora of fruity flavors sell for a hefty $35 online. A four-pack of pods, which contain the addictive e-liquid itself, costs an additional $15.
All appears well on JUUL's website –– they're just a start-up with the mission to "eliminate cigarettes." Behind their friendly presentation, though, e-cigarette companies are creating more problems than they're solving. At an alarming risk is a tech-savvy, media-obsessed generation that can work their way past age verification.
"We're hopeful we can keep educating [students and parents], but we're up against social media and the whole publication of all this… it's exploded," student assistance counselor Gale Mangold admitted.
E-cigarettes such as the JUUL have spiked in popularity among teenagers in recent years. According to a 2016 FDA report regarding tobacco use, 1.7 million high school students, or about 16 percent, said they had used e-cigarettes in the previous 30 days. To put that colossal number into perspective, it's around the population of Philadelphia.
Out of curiosity, the Trailblazer created a survey of its own asking for opinions on this statistic among Pascack Hills students. Out of the 225 responses, 56 percent said there are more students vaping, per high school, than the statistic suggests. Another 35 percent said the number was accurate, estimating that around 16 percent of Pascack Hills students had used a vape. From the poll, a message is clear: vaping is a widespread issue with both similarities and distinctions from related trends in the past.
The poll shows the remarkable prevalence of e-cigarettes in schools nationwide. Because of their hefty price, however, JUULs are most popular in high schools comprising upscale communities. These include towns of our own such as Montvale and Woodcliff Lake. Although prohibited to anyone under 21, students can avert the age restriction by buying their e-cigarettes from other places. 
"Kids get their vapes from drug stores or dealers," an anonymous Hills student commented. "They usually sell for the same price as online or cheaper if you get it from close friends."
Mangold said that while the legal age to purchase both cigarettes and vapes is 21, "you'll go down the street and you'll see at every gas station JUULs, and you'll see advertisements, you'll see it on the billboards." This heavily promotes the product to younger audiences.
There is an incentive behind these campaigns, too. "Big Tobacco is pushing [advertisements] because cigarette use is on the decline and now vape use is on the upswing."
Referring to the five largest tobacco companies, Mangold explained how their excessive promotion of electronic cigarettes is reaching high school students. Its publicity on social media makes even more students curious about vaping, with Instagram accounts like "vapetricks" amassing thousands of followers. Despite those accounts' age restriction, their pictures and videos can be easily screenshotted and spread to other profiles. This diffusion of media contributes to "the fallacy that [vaping] is not harmful."
No matter the source, the nicotine in vapes is very dangerous and highly addictive –– which some students were unaware of. 
"Students didn't realize it's not just water vapor," Wieland said, "and I think they realized, 'I can't stop [the addiction] on my own.'"
Mangold agreed with Wieland's analysis. "You're still inhaling and ingesting [the nicotine] into your lungs, so once it goes into your bloodstream, it has to go to your brain," she emphasized. "It has to go through the cycle."
When the nicotine reaches the brain, it attaches to a receptor that controls dopamine levels. The dopamine is then released into your body and initiates a "euphoria" referred to by one student as  "the buzz." This buzz, or feelings of calmness and pleasure, has catastrophic health effects. In addition to an increase in heart rate and blood pressure and the dulling of senses, the Center on Addiction warns of disruptions in brain development and future cardiovascular disease.
"The concentration [of nicotine] in the e-juice is much higher" than that of regular cigarettes, Mangold warned. 
To make matters worse, nicotine is just one substance e-cigarettes can vaporize. One in eleven students surveyed by the Center for Disease Control said they have used "an e-cigarette device with marijuana" or hash oil. This sobering statistic was affirmed by one Pascack Hills student the Trailblazer spoke to on the condition of anonymity who theorized "there are other substances [besides nicotine and marijuana]" that can be vaped.
Calling vapes a "drug delivery device," Mangold said that "if you do start using flavored nicotine, moving on to using THC, or marijuana, in the device for some is a natural progression." The idea of cannabis being used in e-cigarettes presents even larger health risks to teenagers including hallucinations, increased risk of stroke, lowered reaction time, and poor school performance.
With the rapidly developing e-cigarette industry creating such a wide, new array of problems, finding a solution can be daunting. Despite this, Wieland and Mangold ensure that steps are being taken by Pascack Hills. 
"The punishment for vaping depends on the circumstance," Wieland explained. No matter the case, there is always an in-school suspension and contact with the offender's parents. Wieland adds that, in some cases, "we send students out for drug testing if we have reason to believe the vape has marijuana in it or if the student exhibits signs of being under the influence [of drugs]."
If caught with a vape, Pascack Hills rescinds parking privileges on its grounds for 11th and 12th graders during their senior year. This applies at varying degrees to related transgressions.
At the root of any punishment, though, is ensuring the incident does not occur again. Most recently, the school hosted Sergeant Timothy Shoemaker at an event intended to educate parents on vaping and its risks. 
"Parents are concerned," Mangold expressed. "They're finding pods, they're finding vape devices, and they're not sure what to do about it."
Upon discovering the vape, some parents question its harmfulness. Others insist they don't want their children smoking but are unsure of the pathway their child could be following –– which could lead to the use of substances other than nicotine. 
To educate the students, Mangold plans on increasing her presence in health classrooms throughout the school. She would also like to bring back Sergeant Shoemaker in the following year for a student-oriented presentation.
The vaping pandemic has evidently spread through the halls of Pascack Hills. Three-fourths of the student body agree that millions of high schoolers have used a vape, and its all-encompassing presence throughout social media implies it might not be a trend. However, the school's administrators have offered some optimism regarding the issue.
"We have seen vaping reduce at least in school, so I do think teenagers are educating themselves," Wieland remarked assuringly, a ray of encouragement in the "mist" of a vaping explosion.
Leave a Comment
More from the contributor(s):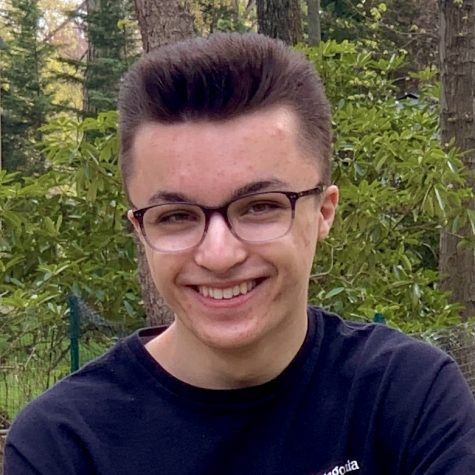 Jared Mitovich, Editor-in-Chief
Jared Mitovich joined the Trailblazer his freshman year as a staff writer. He has helped manage the Trailblazer's social media since his sophomore year, and in his junior year he edited the Opinion section. Now in his final year of high school, Mitovich is looking forward to working with Mackenzie Blowers as Editor-in-Chief along with the entire Trailblazer staff. You can follow him on Twitter at @jmitovich!

Fun fact: Mitovich once met a presidential candidate.