Dance community fights for Black lives, racial justice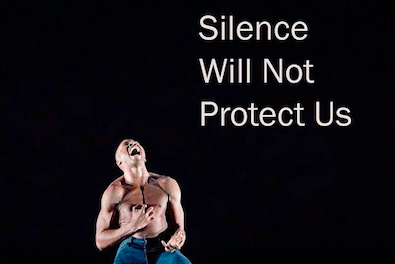 The ongoing crimes targeted at innocent African Americans are now well known, and many people are taking action in many ways, shapes, and forms. For one, the dance community has stepped up their game in being inclusive and made industry changes to support them. 
All people bleed the same, and it is important that society lives by their word. Posting on social media is not the answer; it is only part of the question. Why? 
People should not be judged by the color of their skin since it is uncontrollable. If people were murdered or held accountable for a crime related to nothing legal, but just because of their physical appearance, then the jails would overflow and the cemeteries would run out of room. 
Different actions are being taken to help Black people, and opinions are being voiced. There are so many ways to take action and stand up for equality. 
The dance and arts communities have taken a noticeable stance on the current events. Choreographers, teachers, and students from all across the United States have come together to stand up for the Black community. 
On June 2, dancers from around the world participated in Blackout Tuesday. They only posted black pictures on their social media platforms with the hashtags "#blackouttuesday" and "#theshowmustbepaused."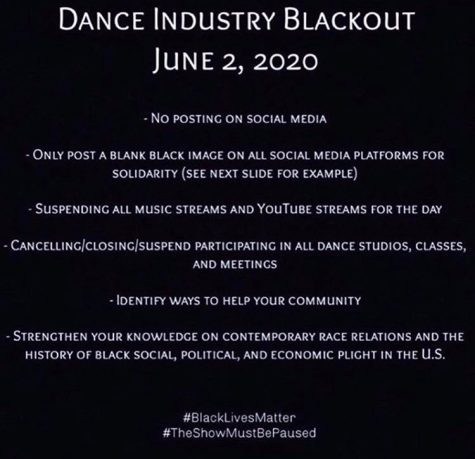 Classes were canceled on all platforms such as Zoom and Instagram Live, and it was the only image that most people posted that day. 
The dance industry is upholding a valuable life lesson of sticking together when a person or community needs it. They have said they will not surrender to the hate and will not stop until a change for the better is made. 
Common Ground Tap, an organization co-created by Justin Boscitto, values community. They did not host their weekly scheduled Instagram Live on Blackout Tuesday.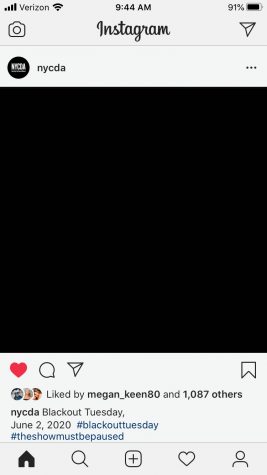 "Today, we are on pause so we can take action and not be silent," read their Instagram story. 
Tiler Peck, a principal dancer with New York City Ballet, also canceled her daily ballet classes. 
"I stand with the music industry, arts, and cultural institutions. We will use this day to stand against all forms of racism, violence, and discrimination," Peck expalined on her Instagram.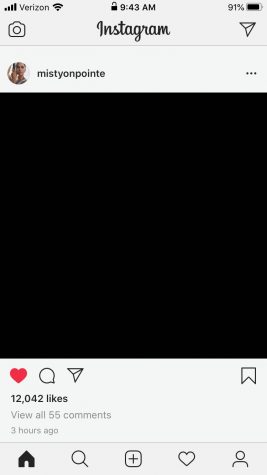 Well-known organizations and dancers posted for Blackout Tuesday, leaving social media flooded with support for an issue that remains a systemic problem in 2020.
BUILD Dance Series, a dance organization founded by Grace Buckley, posted on their Instagram about being more inclusive. 
"At BUILD, we stand against ALL discrimination. BUILD was created to bring us together in safe, supportive environments, and we are committed to continuing to do so," the post read. 
To support this cause, BUILD was not only inactive on their social media, but they were also inactive on their email. 
The founder of Break the Floor Productions (BTF), Gil Stroming, also spoke out against racism. This production owns three dance conventions, 24seven, JUMP, and NUVO. All of their Instagram accounts posted prior to, and on Blackout Tuesday. 
"I am honored to announce the establishment of PATH FORWARD. This will be an effort by BTF to find and award scholarships in minority-owned studios in the USA on a needed basis," Storming explained.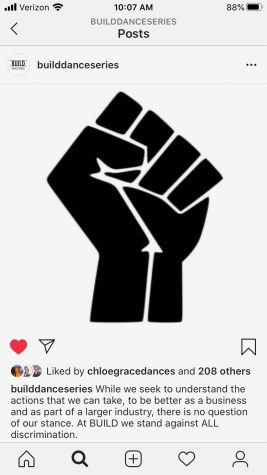 More information about this is coming out before the start of the 2020-21 dance season as they are seeking input from different people. 
The executive director of the New York City Dance Alliance (NYCDA), Joe Lanteri, posted a video discussing racial equality and posted for Blackout Tuesday. He is also the executive director at Steps on Broadway, which is one of the most well-known dance studios in the world. 
"All classes and streams scheduled for tomorrow will be postponed, and we will be joining the entertainment industry in dedicating the day to uplifting the communities most affected by current events. We encourage all of you to use your voice and do the same," he stated. 
On June 3, NYCDA reposted from Chloe Arnold, who is one of the tap teachers part of their faculty. She founded the Syncopated Ladies, which is a tap dance company that has been on shows such as Ellen and Good Morning America.
Arnold created a video entitled "Dance for Justice," where she and the other dancers of the Syncopated Ladies show their stance against racial injustice.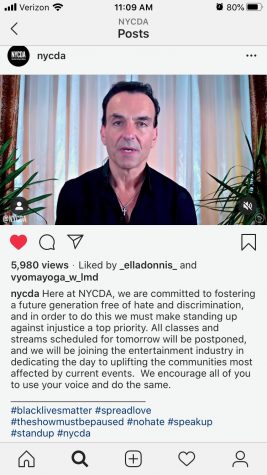 "[Arnold's] vision inspires us all, and we hope that it will inspire you today, too," NYCDA's post read.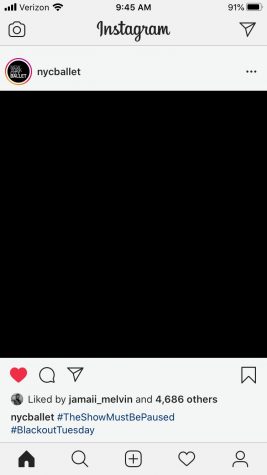 On Blackout Tuesday, the CEO of Liberate Artists, Geri Brown, posted a video explaining how the dance community can do more.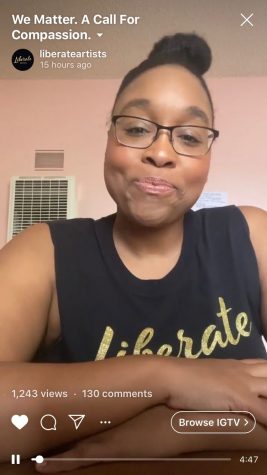 "Even with all we are doing, we can do better. [Black people] deserve to teach in ballrooms filled with people," Brown stated.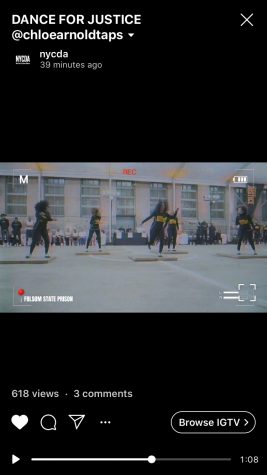 Alvin Ailey, a dance company in New York City, has expressed support for Black people, including a large portion of its employees. A couple of days prior to Blackout Tuesday, which they also participated in, they posted about choosing to not be silent. 
"Silence will not protect us. The pain, the anger, the fatigue, the sadness and the helplessness brought on by the recent death of George Floyd and the continued profiling of Black and Brown bodies is profound," their post read.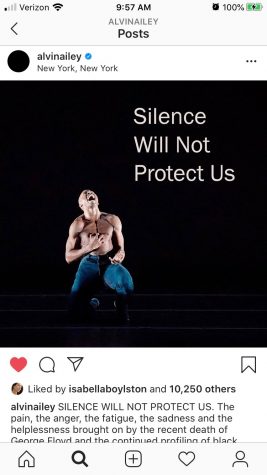 Members of the Hills community also participated in this movement. 
Rising junior Riley Solomon, who participates in theater at Hills and dances outside of school, posted and voiced her opinion about this. 
"Black culture is extremely prevalent in the arts, whether it's dance, music, or even paintings, and people have to remember that the things that they love come from a culture and group of people that are struggling right now and need all of the help they can get," Solomon said. 
On Blackout Tuesday, no one from the arts industry participated in dancing, streaming music, or watching YouTube. They are aware that they cannot enjoy the culture at the expense of the group of people whose lives are at risk. 
Emma Kaufman, a freshman dancer, also participated in Blackout Tuesday and expressed her appreciation for all the dance community is doing to take action. 
"Everyone is recognizing what is going on. There is such a sense of community already between dancers, and it is reassuring knowing that everyone –– from students, to teachers, to professionals, and everyone in between –– are all supporting the African American community, in and out of the dance world," she stated. 
Dancer Siera Boffa agreed the dance community is doing the right thing during these times. 
"The dance community is very open about loving diversity, so it makes sense that such a strong community would be there to advocate for our brothers and sisters under oppression. It's a common theme that no matter what skin color, we all bleed the same, and I think influential dance figures have done a very good job at reiterating that point," she explained. 
They are a phenomenal role model of how people should be reacting to the situation. Sticking together, refusing to be silent, and voicing your opinion are all qualities that are essential in standing up for a group of people who are being targeted. 
It is important that people are educated. There are multiple resources available, including on the Trailblazer. As many students have emphasized, being ignorant is part of the problem because it shows that the side of the oppressor is being taken. Demand change. 
The dance community values being inclusive of all races and wants to continue to take action in advocating for equal rights. 
Leave a Comment
More from the contributor(s):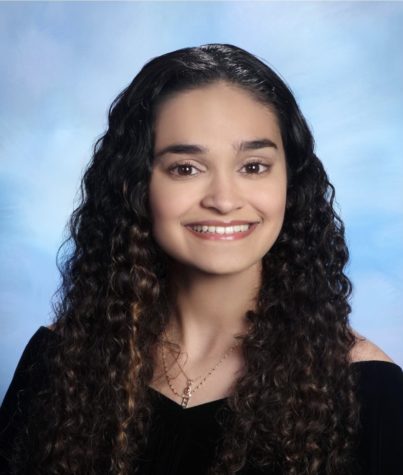 Briana Keenan, Editor-in-Chief
Briana Keenan is a senior at Hills. She joined the Trailblazer her freshman year as a staff writer and edited for the In-Depth and School News sections her sophomore and junior years, respectively. This year, Keenan is looking forward to being the publication's Editor-in-Chief and continuing to write, edit, and manage stories for the Hills community.

Fun fact: Over the summer, Keenan went to the School of the New York Times for two weeks.