Everything you need to know about the Russia and Ukraine Crisis: How is the US involved? 
With lots of news generating around about the crisis between Russia and Ukraine, many Hills students are probably wondering what is actually happening and what they need to know. Here is our breakdown of the current Ukraine/ Russia crisis and how it is impacting America.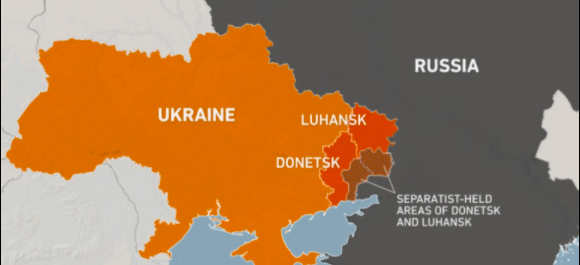 With lots of news generating around about the crisis between Russia and Ukraine, many Hills students are probably wondering what is actually happening and what they need to know. Here is our breakdown of the current Ukraine/ Russia crisis and how it is impacting America.
This is a live story and will be updated as we receive more information.
Update 2/24:
Russia invaded Ukraine in the early morning of Thursday, February 24. The Russian military has destroyed 74 Ukrainian military facilities. As of Thursday, about 40 people have been killed by the bombings. NATO has reinforced its eastern flank facing Russia and pledged to "defend any ally against any attack on every inch of NATO territory." The United States and many European allies have increased stronger sanctions against Russia. Russian President Vladimir Putin warned that "any interference from other countries would lead to 'consequences you have never seen in history.'"
Information from AP News
Update 2/23:
What has Putin done? 
Putin has recognized the independence and sovereignty of two pro-Russian parts of Ukraine, Donetsk People's Republic and Luhansk People's Republic. He has positioned troops at the Russia-Ukraine border, which are beginning to cross over the Ukrainian border, on the brink of a full invasion.
What is the current US response?
President Biden believes that with the addition of more Russian troops positioned at the Ukrainian border, full Russian invasion is imminent. He laid out the first wave of US economical sanctions against Russia, specifically on two large financial institutions, Russian sovereign debt and Russian elites and their family members, which he claims will help cut off Russia's government from Western finance. Biden promises more severe economic sanctions against Russia as the situation escalates
How will these sanctions affect us? 
The main impact these sanctions will have on our daily lives is an increase in gas prices. Biden has pledged to "use every tool at our disposal" to limit this impact, but stated "defending freedom will have costs, for us as well and here at home." US citizens can expect gas prices to rise with increased sanctions on Russia.
Has there been a military response? The US is working with European NATO allies to prevent a full-out war. Biden is currently promising diplomacy, but has called out Putin for redrawing borders and violating international law. He also moved additional troops and equipment to strengthen Baltic allies, but specifically, at this moment, not to fight Russia.
At every step, we have shown that the United States and our Allies and partners are working in unison.

We are united in our support for Ukraine.

We are united in our opposition to Russia's aggression.

We are united in our resolve to defend our Alliance.

— President Biden (@POTUS) February 22, 2022
Update 2/18
Is Russia invading Ukraine?
President Joe Biden believes that the 130,000 Russian troops positioned near the Ukraine border are prepared to attack any day now. However, Russia has repeatedly said that they are not preparing for an attack. 
At a United Nations meeting which took place on Thursday, February 17, Antony Blinken, a United States representative delegate revealed that Russia is planning an attack on Ukraine that would generate a future war between the two countries.  
What is Nato? 
Nato is the North Atlantic Treaty Organization, an intergovernmental military alliance between 30 countries.  It was founded in 1949 after the end of World War II.  It will be the center- land for the issues between Ukraine and Russia. 
The Nato alliance was started by European allies who wanted to stop any further expansion of the Soviet army.  Western European countries did this to ensure political stability and national security by keeping the Soviets from gaining anymore power.  
With the expansion of Nato (comprising 30 countries), Russia fears the expansion of Nato and Ukraine joining forces with them.  
Why does Ukraine want to join Nato? 
Ukraine desires to join Nato because it would enhance the country's military forces and defensive strengths. Once a country joins the Nato alliance, if one country is attacked within it, all of the other allied countries will be obligated to support them.  
So, in the event that Russia attempts to invade Ukraine, the other 30 countries involved within the Nato alliance will be obligated to help, which will enhance Ukrainian security against the Russian army.  
While Ukraine wants to join Nato, there is a low probability of Nato allowing them to join any time soon.  Nato has been hesitant to allow Ukraine to join because they do not believe that Ukraine has matched the political and economic criteria that is necessary to join Nato.  In addition, they are hesitant to allow them to join with fear of involving Nato with a foreign force such as Russia.  
Why would Russia want to invade Ukraine?
Ukraine, a former Soviet country, has been aligning itself with European institutions including Nato and the EU for many years now. Russia has protested these alliances, specifically Ukraine joining Nato.
Russian President, Vladimir Putin declared that if Ukraine did join Nato, Russia would attempt to recapture the Ukrainian peninsula, Crimea. Russia's main goal is to stop Nato's eastward expansion and put an end to its military action in Eastern Europe. Currently, Nato's open door policy still stands, meaning that they are open to any country joining the alliance, potentially including Ukraine. 
How is the US related to the Ukraine border crisis?
The United States is allies with Ukraine and continues to golf a capital embassy within their main capital, Kyiv.  Similarly, Ukraine holds an embassy headquarters in the US capital, Washington DC.  Over the last five years, the United States has provided the Ukrainian military with approximately 1.5 billion dollars to help aid their national security.  
What is the current US military response?
After the United Nations Security Council met yesterday (Thursday), President Joe Biden and delegate Blinken have urged troops to evacuate from the Ukrainian border with fear for their safety if Russia carries out an attack within the upcoming days.  
With this information being considered, Ukraine failed to fully withdraw troops from the eastern region or any other borders.  
Overall, the debate of whether a war is beginning between Russia and Ukraine will depend on whether Russia decides to attack the Ukrainian border within the upcoming weeks.  
More on this story as it develops.  
Two locations along the Russia-Ukraine border, with and without armed Russian tanks positioned
Leave a Comment