What Tik Tok 'de-influencers' say about mass media and consumerism
It can be argued that Tik Tok is an advertising tool.
When was the last time you purchased something you saw on Tik Tok? Have you ever scavenged the comment section of a video, looking for a website name, clothing company, or location to find the pair of jeans worn by an influencer? What about the last time you watched someone sit down and unpackage a "haul" of new products they just bought?
Tik Tok and the cycle of consumer culture
It can be argued that Tik Tok is an advertising tool. Ever since its inception, it has adopted a culture of expressing opinions that aren't as publicized in the real world. Whether that took the form of comedic commentary, sincere "mythbusting," or honest product reviews, Tik Tok is a place with a reputation for candor.
It has managed to take the world by storm, providing people with instant entertainment at their fingertips. Such obsession with the app has even escalated to the point where Tik Tok itself has established "a one hour daily screen time limit for users under the age of 18," according to Forbes. The app's tendency to quickly amplify products, foods, and trends in a matter of minutes has led to the coined term, "Tik Tok viral." 
Tik Tok tells consumers what to watch, think, say, wear, eat, buy, and essentially live. For example, the massively successful Netflix show, "The Outer Banks," trended during the summer of 2020, facilitated by young users of Tik Tok and their overuse of the show's soundtrack. Pop culture rumors and drama can spread in a matter of seconds on the app, as epitomized by the recent Hailey Bieber and Selena Gomez situation–one in which no one has a true account of.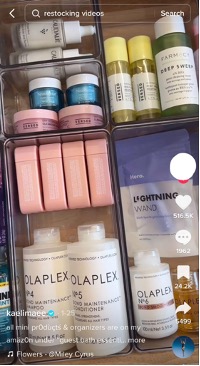 From a sample of Pascack Hills students that use Tik Tok, approximately 95% of respondents testified that they've tried something–whether a food, show, product, or trend–because of the app. Many agreed that it felt as though most of Tik Tok was based upon marketing (and effective, too).
Above all else, this purchasing power and consumerism is the backbone of Tik Tok. Some of the most universal fashion trends seen in 2022 originate from the app, including the comeback of low-rise jeans, cap-sleeve tees, new balances, and oversized apparel. Excessive household products with aesthetically-pleasing color palettes have made enormous strides, where influencers film their day-to-day routines and receive millions of likes. 
With this, Tik Tok boosts features that encourage viewers to pay attention to other peoples' lives, such as "duet" and "stitch" abilities. Commonly, users "duet" existing Tik Toks, which puts their own footage side-by-side, where they usually offer some opinion or extension of the other video. A "stitch" will picture a segment of the existing Tik Tok, then cut to the new user's video. 
The most recent trends
This cycle breeds consumerism in every facet. Where one user raves about the newest pair of pants they bought, one that they guarantee will "fit anyone," there is another user "duetting" that video with them purchasing the same pair. Where one user films them restocking a guest bathroom with elaborate storage and organization gadgets in each shelf and drawer, another user "stitches" that video with them renovating their own bathroom.
According to the New York Times, thousands of distinct products have found success off of Tik Tok's platform of never ending potential; Colleen Hoover sold more books in 2022 than Dr. Seuss, a phenomenon only explainable with social media. Last year, the novel "Airpod Max" made its impact on the world as an aesthetic fashion accessory due to the consumerist nature of Tik Tok. And most recently, the Stanley Cup has received overwhelming popularity from the younger generations–even if it is only an exceptionally large tumbler with a straw.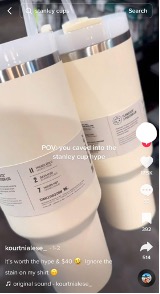 In a survey, one anonymous Hills student reported feeling "guilty about how easily [they were] influenced." Over time, this cycle of short-lived fixations becomes "exhausting." A couple of Hills students even spoke up about little financial conversations that took place with their parents, ever since they've been making impulsive purchases from Tik Tok.
Pop culture only accentuates this culture of temporary obsession and splurging. If Emma Chamberlain is seen in a pair of flared black pants, many Tik Tok users jump on the opportunity, and within days those exact pairs of leggings will be sold out in stores. If Billie Eilish is seen using a salicylic acid facial cleanser, within a week, Tik Tok users will claim that using that face wash cured all of their skin problems.
The rise of "de-influencers"
Tik Tok is a grand network of product reviewing, sponsorship, advertising, and consumerism, but in the past couple of months, a new concept has emerged, known as "de-influencing." As the name suggests, users have come to expose the flaws in our consumer culture, disillusioning viewers before they spend unnecessary money.
Although having contrary opinions always existed, incorporating such opposition alongside the same feed that preaches mass consumerism is profound. Users have commented several times before that scrolling through Tik Tok "feels like an addiction." As explained by NBC News, some have even come to label this derealizing sensation as "core core" as though physically sickened by the amount of digital content they consume.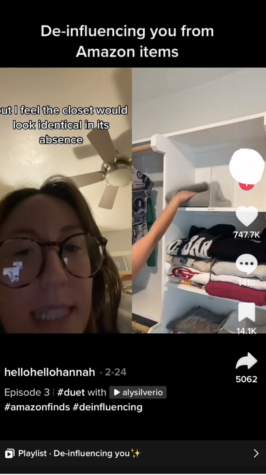 Seeing people standing apart from the masses is a noteworthy change. For the first time, many users are honestly acknowledging that a plain, dollar-store headband will keep hair out of the face the same exact way that overpriced, fluffy, trendy headbands will. Now, individuals point out that "must-have," plastic shelf dividers for one's closet don't exactly have a purpose, unless their clothes are stuffed inside the walls of their shelf space.
Sources:
https://www.wired.com/story/de-influencing-tiktok-haul-backlash/ 
https://www.nytimes.com/2021/10/02/style/tiktok-shopping-viral-products.html 
https://www.nbcnews.com/pop-culture/pop-culture-news/corecore-videos-tiktok-trend-rcna65515 
@kaelimaee on Tik Tok
@julianna_claire on Tik Tok
@kourtnialese_ on Tik Tok
@faithmichelleb on Tik Tok
@hellohellohannah on Tik Tok
Leave a Comment
More from the contributor(s):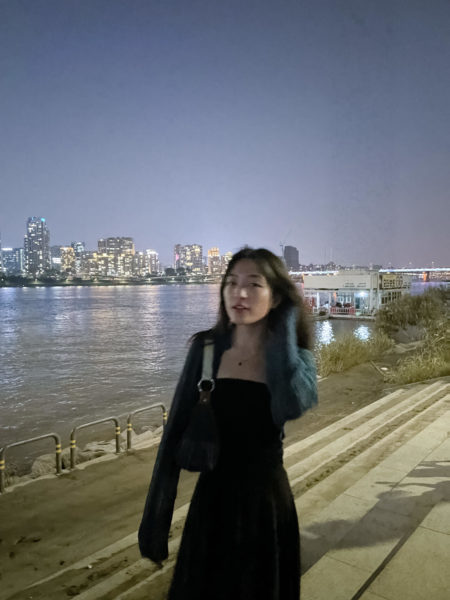 Julia Bang, Opinion Editor / Assistant In-Depth Editor
Hills senior Julia Bang is looking forward to being on the Trailblazer for her final year. She joined the publication her freshman year as a staff writer and edited for the Life & Style and In-Depth sections in her sophomore and junior years, respectively. This year, Bang is excited to create content and manage stories alongside the entire editorial staff.

Fun fact: Bang is a "cafe enthusiast."