As we are sure you know by now, March 20, 2015 is the date of the Junior Prom. It will be a night to remember for all juniors and everyone going because it is a night dedicated to dancing, getting dressed up, and having a good time with friends.
With prom comes the "promposal," which is the slang term that stands for "how people get asked to prom." Some of them are flashy and big, while some are small, sweet, and sentimental. We asked the junior class for submissions of how they were asked, or asked someone, and got some awesome askings! Then we went to you, the students of Pascack Hills, to see which "promposals" you liked the best.
Drumroll please. And the winners are: In first place, Rachel Morgan and Zach Bernstein; in second place, Jordyn Ramsey and Ryan Tsontakis; and in third place, Grace Johnson and Charlie DiPiazza! Thank you to all of those who submitted their "promposals," and also a big thank you to all of the 250 students who voted!
In seeing how much Hills loved these "promposals," the prom couples were asked what inspired their ideas and how the whole scene went down.
Zach Bernstein is a senior on the varsity basketball team at Hills and truly believes that "#ballislife." Rachel thought that would be a perfect way to ask him to prom! She worked with Coach Kirkby to pull Zach out of practice one day to "help him bring the new uniforms down." Little did Zach know that Rachel was waiting for him in Kirkby's room. When he got to the room, Rachel passed a basketball to him with a question mark on it and said, "Will you go to prom with me?" Of course he said, "Yes! That was amazing!" This happy prom couple will sure be having a "ballin'" time at prom.
Yes, Jordyn went on a scavenger hunt down memory lane to find her perfect prom date! Ryan put clues at all of the places where he and Jordyn had made some of their most memorable memories together- talk about adorable! The first clue was planted to Jordyn's house, and from there, she went to about six spots to eventually end up at Twist, in Westwood, where the couple had their first date. There when Jordyn walked in, Ryan was waiting for her with flowers, and she not only got her prom date but a bunch of goodies that went along with the clues that were planted.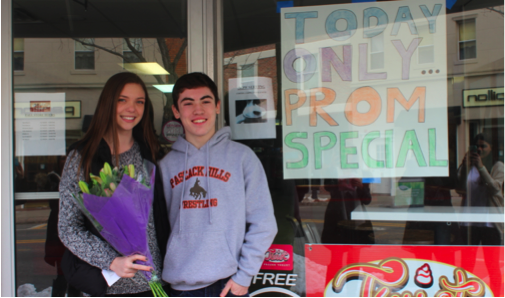 Charlie and Grace, long-time buds found a competitive way to bond: Trivia Crack! Charlie said, "Grace and I would constantly be playing Trivia Crack against each other," so it seemed like a perfect way to ask her. Charlie recreated the game on poster board, and the question reading "PROM?" and all the answers saying yes…which is exactly what Grace said!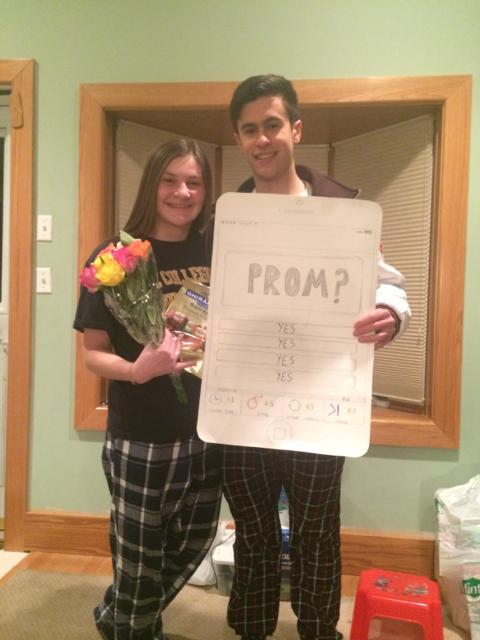 We wish all of you the most amazing and magical prom night regardless of whether you have a date or not- because the point of prom is to have fun and that is all!