Stop Bullying Now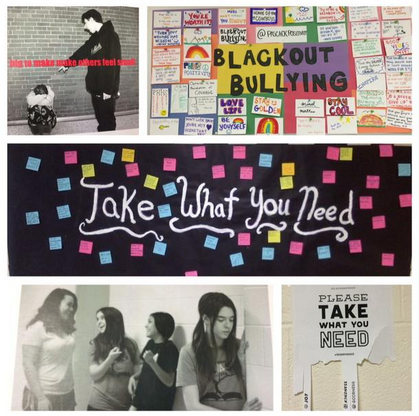 Ms. Rome's English classes, periods four and seven, have worked tirelessly to create a difference in the Pascack Hills High School community. After reading The Scarlett Letter, the College Prep 3 and Honors classes became aware of the effects society has on bullying. Hester Prynne, the protagonist of the novel, is rejected by the townspeople for committing the sin of adultery. The students were able to connect Hester's experience to today's society and the immense impact bullying has on people of all different ages. As a result, both classes came up with their own ideas to create original bullying campaigns.
Period four came up with the idea of recreating the Always "#LikeAGirl" commercial. In this video, children, teens and adults were interviewed and asked the same three questions: What is something nice you did today? What does it mean to be a nice person? What does it mean to be a bully? Answers varied between the different age groups, which proved the theory that as people become more exposed to society, their views on occurring problems in the world change.
Along with the video, period four created a large "Take What You Need" poster. Students spent many class periods writing inspirational quotes and sayings that were stuck onto the large poster. The goal of these Post-Its was to brighten up someone's day as a student passed this poster and took what he or she needed. In addition, various students created other small posters that were displayed around the school to help create awareness of bullying.
As for period seven, students created the @phhspositivity Twitter account, which tweeted positive quotes and pictures to put smiles on many faces. They used the hash tag #blackoutbullying to encourage people to "black out" and get rid of the bullying around them. Furthermore, they put together a bulletin board and filled it with motivating quotes to make someone's day better. Similar to period four's commercial, students from period seven also filmed a Public Service Announcement (PSA) to show the different perspectives people have on bullying.
As the campaigns were completed, both classes went around and shared their finished products with several different English classes. It seemed to be a huge success in creating awareness on bullying. They hope that these campaigns will not only make a change this year, but also make a difference in the Pascack Hills community for many years to come.
Leave a Comment