Facebook is the New Textbook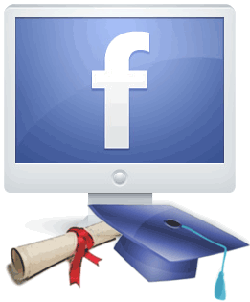 Micaela Mongelli
September 9, 2015
From Schoology to Edmodo, students have been introduced to countless sites deemed the "Classroom Facebooks." These kid-friendly, educational sites became a big draw to teachers, presenting educators with an innovative and creative way to keep up with their students and get them more involved. But no longer do students have to suffer through class discussions and paper submissions on these sites, all failed attempts made by teachers trying to key into our interests and outside lives; the king of social media has entered the classroom.  
Facebook has developed software that provides students with a more specialized learning environment. This program helps students learn at their own pace and allows students and teachers to cohesively create lesson plans. The software will even grade unique quizzes made by the teachers.
Currently, Summit Public Schools, a charter school network in California and Washington, is the guinea pig for this program. And Diane Tavenner, Summit's chief executive, seems more than pleased with the results. Alongside Mark Zuckerberg, who has donated tremendous sums of money for educational efforts in the past, the two plan to make this software as universally available in the US as possible and with an added bonus: It's free.
As for Pascack Hills, this technological breakthrough could have a major impact on our school system in the years to come. If the software expands as hoped, and with the advanced technology we have available to students and teachers, Hills could follow in the footsteps of Facebook, redefining education with a much more personalized approach. Although only in its nascent form, Chris Cox, Facebook's chief product officer, is hopeful of what is to come: "We've seen that there's an opportunity to help apply our skills to the future of education, and we all wanted to find a way to help make an impact by doing what we do best – building software."