The One-Way Ticket Out of Poverty
Young Jeong
September 28, 2015
Dr. Whitfield may be one of the most fascinating and knowledgeable teachers in his area of expertise. Even many PHHS teachers have often compared him to a human encyclopedia of endless information. For the students who do not know him, he is the Anatomy and Physiology teacher at our school, who might be better known as the teacher with a freezer full of preserved birds and small creatures.
This past summer, while most of us were relaxing in Jersey Shore or spending quality time with family and friends, Dr. Whitfield spent ten weeks teaching at a private boarding school in Kochi, a city in southern India. His trip shows students and teachers all take our learning environment for granted because Dr. Whitfield taught in a school that experienced frequent blackouts and tremendous technological constraints. Unfortunately for him, it was monsoon season, so he taught in an area of over 100 degrees and 95% humidity, along with three to four inches of rain a day. As you might expect, the school in India was both culturally and academically different from our very own, Pascack Hills High School.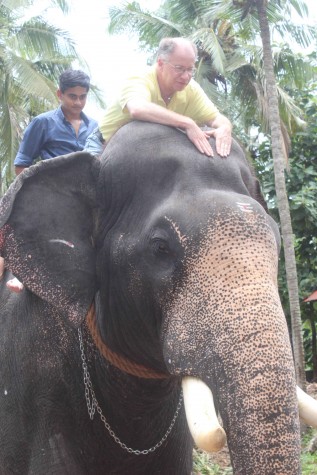 "I think the kids are overly stressed. They don't strike me as being happy, " said Dr. Whitfield when asked about the students in India. There, every school must follow a federally mandated curriculum, and for seniors, there is an immense amount of pressure.
In India, April 15th is the day of the dreaded exam that determines a high school senior's future. Exam results will be posted publicly with your ranking among students in the entire country, teachers will submit the five lowest and highest scores to the state government, and the following day, colleges everywhere will publish what grades they will accept for admissions. Unlike our tedious college application process which consists of submitting grades, recommendations, and extracurricular activities, the sole determining factor of a college acceptance or rejection all falls down on the single grade point average and April 15th exam results.
As you can probably guess by now, education in India is purely academic. According to Dr. Whitfield, "There is no such thing as senioritis," since students attend school on Saturdays and Sundays. Unfortunately, there is nothing that can alleviate the stress from exams and grades because for the majority of students, getting accepted to a college seems to be the only way out of poverty. During his stay, Dr. Whitfield was able to witness the overpopulation, poor sanitation, and homelessness of India.
"We are blessed to live here," said Dr. Whitfield. He said that he chose to teach at such a school in the first place because he was looking for an adventure. Our school is more than ideal of a learning environment when compared to the one in India because not only is it spacious and sanitary, but as students, we are offered hands-on learning experience with the help of amazing technology.  A lot of students, especially seniors, complain about the overwhelming stress of Common App, but when we look at schools around the world like those in India, we get a little bit of perspective that makes us appreciate where we are brought up and educated.