Community Faces the Closure of Huge Markets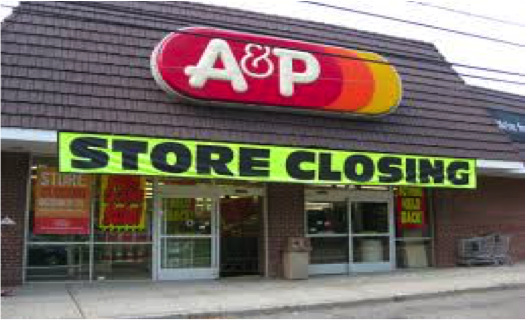 Perri Cochin, Arts and Entertainment Section Editor
October 11, 2015
As the school year has begun, the word about the closure of local markets, A&P and Depiero's Country Farm has spread and startled many.
A&P is the home of a wide variety of produce. It also has a pharmacy, offers school supplies, a delicious bakery, outdoor supplies, and much more. A&P, which has become a nationwide chain in the United States, recently announced its closure.
Due to an approximate $305 million net loss, A&P must close and sell stores because of its bankruptcy.
Jim Hertel, a grocery industry consultant said, "They got caught in a downward spiral of sales declines that forced them to cut costs" (The Wall Street Journal).
Hertel shares how other markets became more advanced, such as Wal-Mart and Whole Foods, as A&P was doomed and facing failure. In addition to the closure of the neighborhood market A&P; Depiero's Country Farm is awaiting its close.
The closure of Depiero's Country Farm, owned by the Depiero family located in Montvale, is a great loss to the community. Depiero's offers more to local families than a diverse variety of the freshest vegetables and fruits in Bergen County.
As this year's Halloween approaches, many look forward to the seasonal activities that Depiero's offers. Many teenagers enjoy the haunted tractor ride at Depiero's known as nightmares. Children travel through Depiero's "spooky maze", and families go pumpkin picking.
Depiero's presents a variety of activities for individuals of many ages during the fall season. Individuals who live in the area share how they are greatly affected by the shutdown of these markets.
Jessica Leichter, a high school student and Woodcliff Lake resident, says,  "I'm devastated about the closure of Depiero's, especially learning this during the fall season. My family and I enjoy the fall festivities annually."
Not only are individuals bothered by the closure of Depiero's during the fall season, but it will also force local residents to select a new store to purchase produce at.
Additionally, local residents are extremely concerned about these large markets closing because they are unsure where to go grocery shopping.
Stephanie Cochin, a mother of two children in Bergen County, says, "I shop at A&P daily, but now I must invest a great amount of time and research into finding a local store that offers a diverse range of produce and merchandise".
As A&P and Depiero's Country Farm are closing, where should individuals who live in the neighborhood shop? It is a large challenge to discover a store that offers many essentials such as fresh produce, and more.