Woodcliff Lake – Elections Today!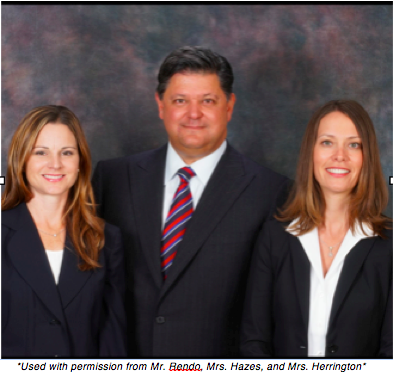 Camila Paladini
November 3, 2015
With Election Day being tomorrow, I decided to give you the run through for one mayor candidate and two council candidates for Woodcliff Lake Council. Carlos Rendo, Angela Hazes, and Kristy Herrington are three very driven people who all share a similar goal: to make Woodcliff lake a better place.
They want to get involved to bring new ideas to the community and to make a difference. "Preserving Woodcliff as a park-like town" is their main concern. There are many ideas going around such as a mayors ball to raise money for education, open up the reservoir for recreational activities, and keep the library open year round for people since there is none in Woodcliff Lake. With their hopes set high and their focus set in gear this trio has amazing ideas to keep Woodcliff Lake known for its beautiful parks, and making sure that people in neighboring towns notice the small town for its beauty and potential.
Here are a few Fun Questions to get to know these candidates.
If you were stuck in a desert island what three things would you take with you?
Carlos Rendo: a lighter, my wife and kids
Angela Hazes: I'm going to spare my kids, but will pick my husband since he's in construction and can make me a little shelter, chocolate chip cookies, and an axe. I need a tool.
Kristy Herrington: my husband, and my two children. Between the three of them I think we could solve all the problems.
Describe yourself in one word. Why did you choose that word.
CR: sincere – because I like to say it like it is. Understand that whatever I say it.
AH: thorough – I like to see things through whether it is regarding my children, my business, my marriage, I think Im thorough.
KH: Doer- I'm happiest when I'm busy. Instead of asking someone to do something I'll do it.
Rain or Shine?
CR: Shine.
AH: Shine. All the way!
KH: Shine.
Favorite sport?
CR: Baseball. I would prefer coaching
AH: Watching baseball. My husband coaches and my son plays. Not much of an athlete, but I do like nice walks, they are very therapeutic and I have enjoyed a nice yoga class or two!
KH: I enjoy playing and watching sports. The three I enjoy watching the most would be basketball, football, and baseball. The ones I enjoy playing the most are basketball and running.
What is your favorite kind of music?
CR: I like believe it or not, rap, and I like dance music.
AH: I like anything from classic Bruce Springsteen, his old stuff to Adam Levine. I grew up the dance music too!
KH: Everything is played at my house. My husband plays guitar so we play a lot of music in the house. Anything that I can dance to I enjoy, something that is different, maybe you wont hear it on the radio. I enjoy listening to that. I grew up in the country so I like country music as well!
What has been you best day up to date?
CR: There are a lot of good days! Either my wedding or the day of my first child being born.
AH: That's where my head went to. I cant pick between the birthdate of my son and my daughter.
KH: They are pretty monumental dates. The only other day that sticks out that my mother will tell you sticks out as well was when I got my first job assignment. My first territory was in California and I grew up in Nebraska.
*This article is not the opinion of the reporter or of the Trailblazer. This is merely written for knowledge of whats to come with the elections.*