Michelle Obama Starts a New Campaign with #62milliongirls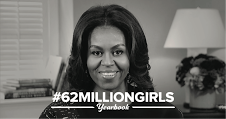 Dylan Barron
November 13, 2015
On Saturday, October 24, 2015, at the Global Citizen Festival in New York City's Central Park, Michelle Obama announced a new campaign that aims to provide girls around the world with an education.
With this campaign in mind, Michelle Obama created a hash tag, 62milliongirls, encouraging people to tweet what they learned in school along with a picture of themselves. This hash tag was created as a reminder that around the world, 62 million girls are not in school, and half of them are adolescents. Michelle Obama hopes to lower this number.
Any pictures that are posted along with #62milliongirls will be posted on the website, 62milliongirls.com to emphasize the numbers of girls without an education. It is based off the knowledge that merely getting an education increases a girl's chances of making a decent living, raising a healthy and educated family, and improving the quality of life for herself and her community. A study completed by the World Bank found that every year of secondary school education correlates to an 18% increase in a girl's earning power.
This campaign is part of the Let Girls Learn campaign that was announced in March. The Peace Corps and Michelle Obama have formed a collaboration that will target education systems in 11 countries, including Albania, Benin, Cambodia, Ghana, and many others. The three goals of this collaboration are to: empower leaders work hand in hand with communities, and increase the impact of Peace Corps volunteers.
On September 29, 2015, Michelle Obama spoke at Glamour's "The Power of an Educated Girl" panel, where she spoke to a thousand schoolgirls about the importance of an education. It was at this panel that Michelle Obama shared her personal motive for starting this campaign. Without "the opportunity to go to college and then on to law school," Michelle Obama knows that she would not be where she is today. With daughters of her own, Michelle Obama hopes that all young girls have the same opportunities that she had when it comes to education.
Michelle Obama encouraged young girls by saying, "I want you to be hungry to get your education because it is going to be the key to your future."