Best Halloween Costumes 2015
Marley Scheld
November 14, 2015
For seniors, Halloween means dressing up in school and having a good time. It has been a tradition at Pascack Hills for many years.
This year, the class of 2016 dressed up on the Friday before Halloween and displayed their best costumes. Most of them have been waiting since Freshman year to dress up. And, of course, the costumes were fabulous. They ranged from animals to movie characters to actual people from Pascack Hills. Here is a list of some of those great costumes from Halloween 2015.
7. A Skeleton and Her Zoo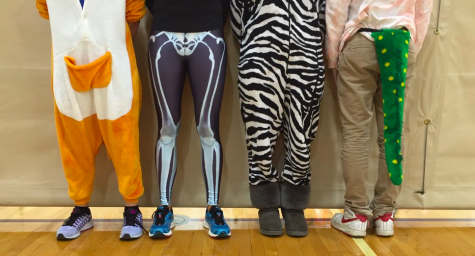 Ms. Padelsky's gym class resembled a zoo on Friday. Many people were dressed up in onesies as different animals. From lions to zebras to dragons, there was an array of animals walking through the halls of Hills.
6. Despicable Me Minion and Army Girl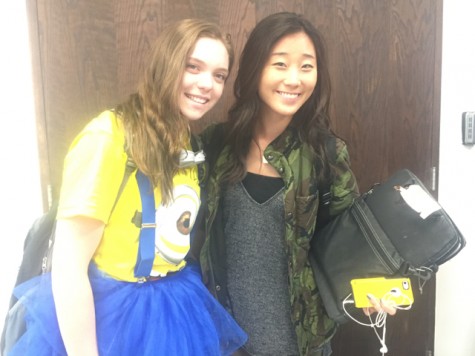 The extremely popular film franchise, Despicable Me, gave us cute, yellow creatures that have warmed our hearts. This year, we saw one of our own at Pascack Hills. Jordan Ramsey dressed up as one of those famous minions, pictured with Young Jeong, an army girl rocking camo.
5. Abraham Lincoln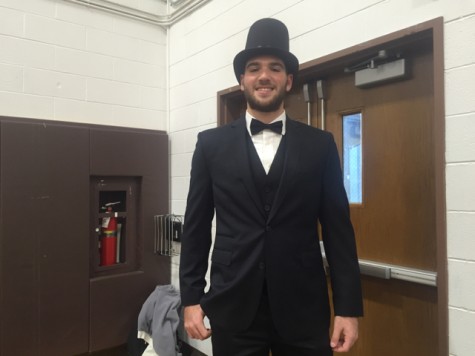 Wait – is it 1860 or 2015? It was impossible to tell with Abraham Lincoln, America's 16th president, walking through the halls. Zach Broadman dressed as this famous historical figure and earned an A+ from Ms. Horn and Mr. Alexander.
4. Christmas Tree and Mean Girls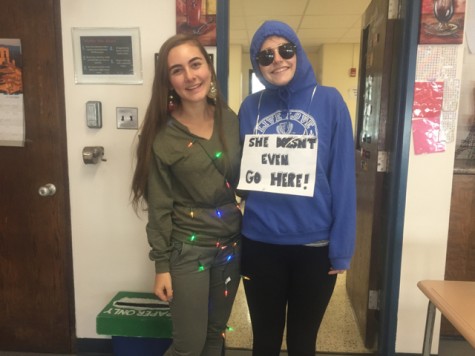 Halloween or Christmas? For Anya Balsamides, it was both. She did a great job combining holidays with her personal light show (yes, the Christmas lights actually lit up and flashed). Next to Anya, Andrea Kent had us asking, "Does she even go here?" Andrea dressed as Damian from everyone's favorite teen movie, Mean Girls.
3. Pumpkin and Tourists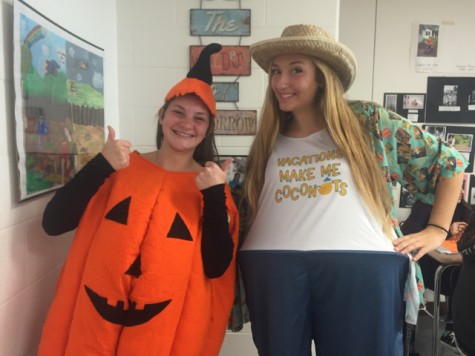 Grace Johnson definitely had the most Halloween spirit in school this year. She dressed as a pumpkin, wearing a full body suit of orange. Fun fact; her costume was completely homemade! Next to her, Riley Neville and Melissa Pierro (not pictured) dressed as tourists. We were "coconuts" for their costumes!
2. Señor Priddy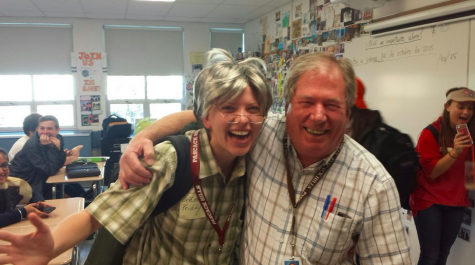 In this picture, we can't tell who is the real Señor Priddy! Rosey Lambert did an amazing job dressing up as the well-loved Spanish teacher. She had the outfit down perfectly from the wig, plaid shirt, lanyard, and even to the khaki pants. She surprised her teacher in class, and he was very excited to see her costume. You know what they say; imitation is the best form of flattery!
1. Cowboy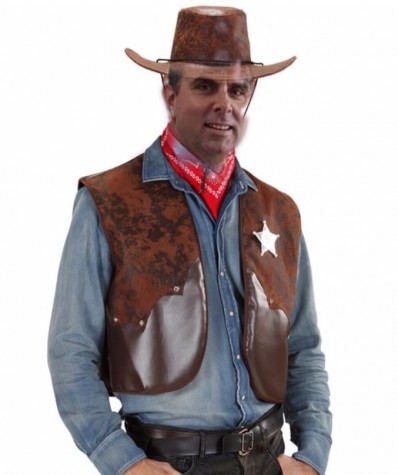 Although Mr. DeMarrais didn't dress up on Halloween for school, he is the biggest Cowboy of all of us. He definitely wins best costume because he is a true Pascack Hills Cowboy.