#PaixPourParis Project at PHHS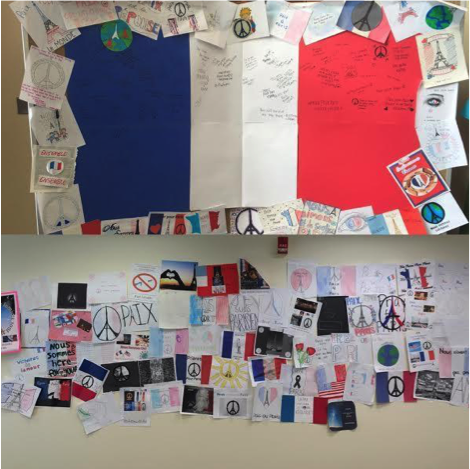 Perri Cochin, Arts and Entertainment Section Editor
December 3, 2015
Pascack Hills, and particularly the French students, expressed their prayers for Paris with their #PaixPourParis project, after the tragic bombing that occurred on November 13.
It was an ordinary night in Paris, where many individuals viewed a soccer game, dined at restaurants, and some visited a theater. Ultimately, it became a very atypical night when about 128 individuals were killed, and the first state of emergency had been declared in Paris since the 2005 riots.
Many countries, and schools worldwide, have been praying for those affected in this event has terrified those around the world.
The French students at Pascack Hills have created the #PaixPourParis project under the guidance of Madame Gorman and Madame Conboy, who both teach French at Pascack Hills. The project allows the students to share about their feelings regarding the Paris incident and the "Peace for Paris" project.
Madame Gorman says, "This situation was not a situation where people lost their homes or materialistic things, so we did not want to do something that was collecting money or things, it was to show solidarity and support with another country in a positive way".
Madame Conboy adds to this idea and states, "Art is a way of bringing beauty and healing to the world. We think about the fact that the attack was on people in their leisure time, and it reminds us about how important things are to us. We use art to send our positive thoughts and prayers to Paris. Hopefully that is a great comfort."
Conboy and Gorman have put much effort into finding basic documents that were created for students in France, to share with their own French students. They want their students focusing on the facts, in order to move in a positive manner and to avoid living in fear.
Alyssa Beutel, a freshmen at Pascack Hills says, "We contributed to the #PaixPourParis project because we feel that we have a very special connection with those in France, even though we have never met. Since we are are learning about their language and their culture we have as much love and passion for it as they do."
The French students at Pascack Hills have not only contributed a lot of time and effort to the project, but they also expressed their emotions for the people in France, and the love that they share for the country that they study.
Freshman Kimmy Shannon states, "Something like a poster brings so much light, and is one step closer to the healing process. We want to give a shed of hope, happiness, and love to the people of France and around the world at this difficult time."
The French students express their ideas, prayers, and emotions by illustrating positive images on their posters. The student body and faculty at Pascack Hills are encouraged to express their prayers on either of the poster boards in the main lobby or cafeteria.
Freshman Frank Scott says, "I want my fellow students of Hills to know that we can make a difference, no matter how small our acts."
Ultimately, the #PaixPourParis project at Pascack Hills demonstrates how the support and hope for Paris due to a horrifying tragedy that one will never forget. The beautiful artwork that is displayed at Pascack Hills will encourage not only the French students and French teachers to show support, but the entire school.