Obama Delivers an Address to the Nation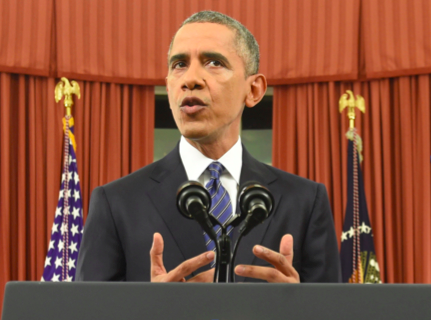 On Sunday, December 6, 2015, President Barack Obama made a rare Oval Office address to a nervous nation about the how the United States will combat terrorism. This address comes in light of recent events such as the terror attacks in Paris and the shooting in San Bernardino, both of which have been deemed to be terrorist incidents. Here is an outline of what President Obama spoke about in his address.
The President began by speaking about the recent San Bernardino shooting, laying out the facts as they are currently understood by federal authorities: the victims of the San Bernardino shootings were killed by a coworker and his wife. While there is no evidence that indicates they had directly communicated to terrorists overseas, it is likely they were inspired by radical ideology. The President stated the shootings were simply "an act of terrorism designed to kill innocent people."
Next, Obama spoke about the evolution of terrorism since the attacks of September 11th, 2001. He noted that while America has strengthened their defenses and thwarted a large number of terrorist incidents, federal authorities are better at deterring large-scale threats similar to the 9/11 attacks than small scale plots. Smaller scale attacks have been seen with the 2009 Fort Hood shooting, the Chattanooga shootings in early 2015, and the recent San Bernardino shooting.
Despite this, the President urged the American people to stand against ISIL (the Islamic State in Iraq and the Levant), as the United States will not give into fear. American citizens should be "…strong and smart, resilient and relentless, and by drawing on every aspect of American power…" against these real terrorist threats.
To combat ISIL, the President laid out a four component plan: to combat terrorism abroad with airstrikes, to increase training and supplementation of local forces (and to utilize American Special Forces), to work with foreign powers to stop ISIL operations such as recruiting or financing, and finally to come to a political, diplomatic solution to the Syrian conflict. So far, 65 nations have made a commitment to join the United States' campaign against terror.
The President continued to outline what he believed the American government, specifically Congress, should do to curb the threat of terrorism and stop attacks like the one in San Bernardino. Obama advocated for Congress to ban anyone on the No Fly List from purchasing a firearm. He also promoted strengthened screening on foreigners without a visa, making the purchase of high-powered assault rifles more difficult, and having Congress vote for a continued military force against ISIL.
Before making closing remarks, the President thoroughly outlined what Americans should not do in the face of this evolved terrorism. Obama stated that we should not be drawn into a costly ground war similar to the one in Iraq after 9/11, saying "… they [ISIL] know that if we occupy foreign lands, they can maintain insurgencies for years, killing thousands of troops, draining our resources, and using our presence to draw new recruits."
The President emphasized the idea that America is not waging a war against Islam, for groups like ISIL "… do not speak for Islam. They are thugs and killers, part of a cult of death, and they account for a tiny fraction of a more than a billion around the world, including millions of patriotic Muslim Americans who reject their hateful ideology." Obama advocated for using Muslim communities as strong allies to reject toxic ideology, but also encouraged these communities and their leaders to confront and speak out against the problem of radicalization.
Obama ended with an appeal to American values, claiming that America is once again standing on the right side of history. "Let's not forget that freedom is more powerful than fear, that we have always met challenge, whether war or depression, natural disasters or terrorist attacks, by coming together around our common ideas as one nation and one people. So long as we stay true to that tradition, I have no doubt that America will prevail."