Chinese Students Take a Trip to Chinatown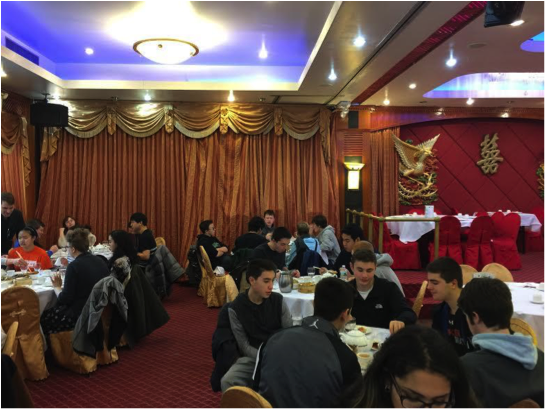 By Jake Feldman
On January 25, students from both Pascack Hills and Pascack Valley who take Chinese traveled together to spend the day in New York City. The Chinese teachers, Mr. O'Neill, widely known as "Ouyang Laoshi," and Mrs. Yao, known as "Yao Laoshi," accompanied the students. The original plan for the day was to visit the Metropolitan Museum of Art, followed by an authentic Dim Sum meal in Chinatown.  These plans quickly changed, however, when the bus was caught in heavy morning traffic due to Snowstorm Jonas.
The teachers were forced to rethink their plans for the day; at this point, they had already missed their scheduled tour at the Met.
"I was disappointed, but we had gotten this far already so we had to make the most out of it," Mr. O'Neill said.
By the time the bus had made it to Manhattan, it was already time for lunch. Students enjoyed a meal that included various popular Chinese dishes such as shrimp wontons and cow belly. Once the meal concluded, the students were treated to bubble tea, a Taiwanese tea-based drink that comes in many different flavors and is sweetened with black "pearls" made from tapioca. Once back on the bus, Mr. O'Neill took some time to reflect on his feelings about the day.
"I was a bit apprehensive at first with incorporating my students from both schools, but that feeling quickly subsided when we got on the bus and everyone got along. I am glad students were able to get a little glimpse of Chinese culture," he said.
It is safe to say that everyone felt the same way he did about this annual trip, despite the fact that their original plans had been altered. Chinese students and faculty are already counting down the days until they are able to attend this field trip again next year.
Leave a Comment