Cowboy of the Week: Grace Johnson
If you look around the crowded halls of Pascack Hills, you will see a sea of unique faces, representing innumerable different personalities. Among those stands senior Grace Johnson, who goes above and beyond in contributing to our high school's community. Whether it is participating in clubs like Future Educators of America and the Peer Leadership program to singing in the choir, to performing in the school dramas and musicals, Johnson never fails to show immense Hills pride throughout her high school career.
Music has been an important aspect of Johnson's life ever since she started singing at Our Lady Mother of the Church in kindergarten. Johnson joined her elementary school's choir in the fourth grade and has adored both singing and performing ever since.
Johnson's ongoing passion for music has only grown since attending Hills, as she has been a loyal, four-year member of almost every choir program Pascack Hills has to offer. Johnson has participated in the school musical ever since she was a freshman, playing noteworthy roles such as a Hot Box Girl in last year's musical, Guys and Dolls, and Miss Dorothy in Pascack Hills' 2014 production of Thoroughly Modern Millie.
Johnson's latest, and surely greatest, accomplishment was earning the part of Elle Woods in this year's spring musical, Legally Blonde. This show, recognized as one of the best Pascack Hills productions yet, would not have been the same without Johnson's impressive acting skills and unbelievable vocals.
When asked about her experience as the lead in Legally Blonde, Johnson said, "It was really stressful, but also the most fun I've ever had. Perfecting a character as spunky as Elle Woods was hard work, but it paid off."
Johnson has definitely created life-long relationships with peers and educators during her time at Pascack Hills, and those bonds are certainly something she will carry with her even after leaving high school. When asked about her years at Pascack Hills, Johnson stated, "This school has taught me how to be a part of a team, learn to interact with others exceptionally, and showed me that it's okay to always be myself. The teachers and faculty have given me nothing but encouragement along the way, and I wouldn't be where I am without them."
As for college, Johnson has not yet decided where she is going to spend her next four years, but she has many amazing schools to choose from as she was accepted everywhere she applied. However, Johnson does know one thing for sure; her involvement in the music world will not end when she clutches her diploma and becomes a Pascack Hills alumna.
When asked about her future plans, Johnson said, "I plan to major in music education to ultimately become a choir teacher, so music will forever be a part of my life."
Although she is known for her extreme music talents, Johnson's contagious smile and remarkable leadership skills will also be missed at Pascack Hills. Without a doubt, Grace Johnson will make a name for herself in her future endeavors.
Leave a Comment
More from the contributor(s):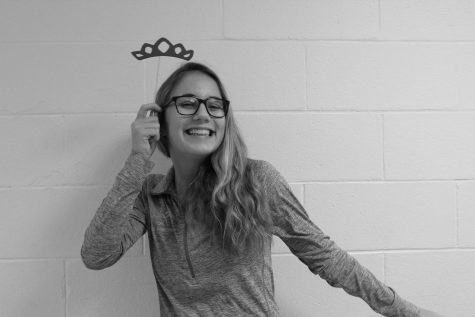 Olivia Lein, Editor-in-chief
Olivia "Liv" Lein, a junior at Pascack Hills, is the Editor-in-chief of The Trailblazer. Aside from her involvement in the newspaper, Liv is the vice president of the Class of 2018, a member of the varsity gymnastics team, and a style writer for Germ Magazine. She is also a part of The Trailblazer's summer staff. Liv's favorite classes include English and Journalism (of course)! She has a love for writing, exploring new places, spending time with friends and family, Gossip Girl, and ANYTHING having...