Advanced Preparation for Advanced Placement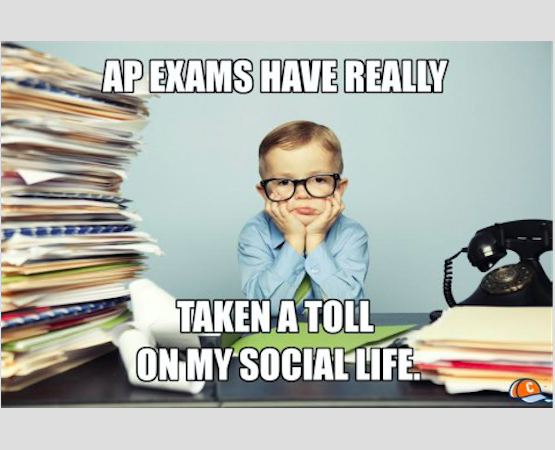 The week following spring break, many students who roam the halls of Pascack Hills will return with a nice tan, great memories, and an arm full of Barron's books. The Advanced Placement assessments, beginning on May 2nd, will test students' cumulative knowledge of college-level courses with lengthy tests, challenging multiple choice questions, and thought-provoking essays.
Last year, I took three AP tests and have learned quite a few do's and don'ts from my experience. If you hope to ace the AP, follow some of these tips for guaranteed success:
Know your test date.
With tests occurring for the first two weeks of May, and several subjects that sound quite similar (Language and Composition versus Literature), it is easy to find the wrong test date. Go to the CollegeBoard site and confirm your test date and time.
Don't be late to the test.
Not only will you be at a disadvantage by arriving late, but your classmates will not be too happy with you. Arrive to the classroom at least ten minutes and be prepared to begin promptly at the start time of the test. Or else you hold yourself back—and everyone else.
Bring a lot of pencils and
With all of the tasks demanded of you, and nerves pulsing through your veins at a mile a minute, sometimes you press down a little harder on that pencil than you think. For Scantron portions of the tests, you need a number two pencil. But for many essays, they request writing in pen, so be sure to keep dark ink on hand.
Get AP preparation books.
AP books are lifesavers. Filled with tips, practice tests, and general review, companies like Princeton Review and Barrons will become your best friends for the next month. The size may be daunting at first, but it is worth the work.
Find a study buddy.
Not only is it impossible to remember everything you learned in your AP course, but also, at times it can be difficult to push yourself to study. By finding a study buddy or creating a study group that meets every so often, not only will your peers help you with confusing material, but they can help you get off your couch when you don't feel driven to study.
Start studying before the night before the test.
Sadly, you cannot fit all of the coursework of an AP test into one night of studying. Take for example, AP US History. That course has two years worth of material to study, so I would suggest begin to compile and review your notes now. Speaking from experience, you will need the time so use it wisely.
Get a good night's sleep and eat a hearty breakfast.
It may sound silly, but it is necessary. Let's face it, the night before the test won't change much about your knowledge, so get a good night's sleep in. And, be sure to eat a nutritious and yummy breakfast in the morning, because the tests normally run for about three hours, without many breaks. If your stomach starts rumbling in front of the whole class, don't blame me.
These AP tests will not make or break your educational future. They are just one assessment, and can only help you in your college endeavors, not hurt you. So go in confident and do your best!
Best of luck Hills! Happy studying!
Leave a Comment