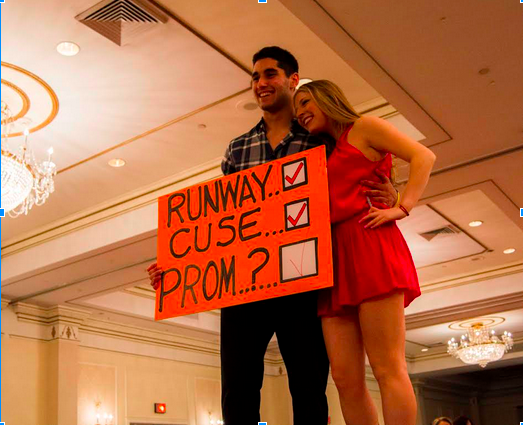 This year's fashion show was a hit! With the theme "A New Dawning," students strutted their stuff down the runway in style. The Fashion Show is run by the Parent Faculty Association (PFA) , which uses the profits from the show to fund Safe Graduation for the seniors, among many more things. Thanks to long hours put in by the PFA, trendy outfits donated by local stores, and hair and makeup done by Mania's Hair Studio, the students all looked amazing.
The fashion show hosted some special surprises that truly put the show over the top. Marin Donnelly and Cristina Schneider, guidance counselors at Pascack Hills,  not only advertised the stunning outfits that the students were wearing, but also prepared a little piece about each student highlighting their future plans, favorite Pascack Hills memories, and some fun facts. The emcees were also dressed to the nines in cute jumpers from That Look. In fact, if you go to That Look anytime between now and April 29 and say that you attended the Pascack Hills High School Fashion Show, you will receive 15 percent off your purchase!
As the senior student body took over the runway, a few cute moments stole the show. Danielle Glickman and John Aquaviva did the handshake from the hit movie, The Parent Trap; Leigh Siracusano and Chris Souflis did a hysterical martial arts routine; and of course, who could forget Stevie Steiger's promposal to Jules Lefkowitz? The crowd went wild when the BFFs hugged at the end of the runway as she said yes!
Senior Grace Johnson said, "My favorite part about the Fashion Show was getting ready. It was so fun getting dolled up by Mania's. Everyone looked stunning; it was a great way to kick off the beginning of the various senior events coming up!" That appeared to be the general consensus of everyone who was in the fashion show and everyone who came to watch.
When discussing the Fashion Show, most people mark it as "the beginning of the end" of senior year. The seniors are looking forward to some big things: college commitment day, white water rafting, senior skip day, graduation, and all of the exciting moments that fall in between. With a new future dawning upon the class of 2016, it is safe to say that this senior class has a very bright and exciting future ahead of them!