Pascack Hills' Heather Lutz named 2016 Sister Rose Thering Award recipient
The usual smile consistently plastered on the face of Pascack Hills' English teacher Mrs. Heather Lutz was even brighter this past Monday after hearing that she would be this year's recipient of the Sister Rose Thering Award. The humanitarian award came especially as a surprise to the English and Literature of the Holocaust teacher as she never even knew she had applied—Mr. Glenn deMarrais nominated Lutz for the award and was one of the first to congratulate the weeping Lutz when she found out.
After receiving a personalized email from Larry Glaser, Assistant Executive Director of the New Jersey Commission on Holocaust Education, Lutz "freaked out." She proceeded to run down the hallway, laptop in hand, to inform Dr. Edie Weinthal, Pascack Valley English Department head. Aside from the enthusiasm of her students, it is the support of administration that has truly allowed Lutz' Literature of the Holocaust class to expand and impact the Pascack Hills' community so strongly these past two years.
"Administration has been great," Lutz explained. "They have allowed me to dedicate my heart to something I love. It's more than teaching. It's more than a class. Granted, you gain the literacy skills of an English class, but in a way that teaches you about people."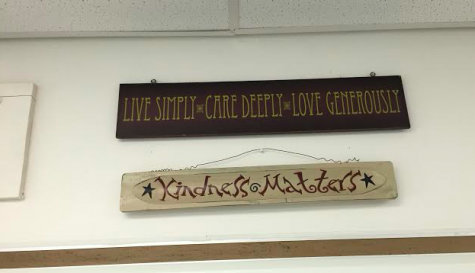 Sister Rose Thering was a professor at Seton Hall University who left behind a legend uniting and improving Jewish and Christian relations after her passing in May of 2006. "Sister Rose was a champion of opening doors between Christians and Jews," said Luna Kaufman, chair of the Sister Rose Thering Endowment for Jewish-Christian Studies at Seton Hall University.
Her ultimate goal was to unite the public by means of education—her legacy remains as those pursuing similar efforts are recognized in the name of the Sister Rose Thering Award. Awarded to "an educator or individual contributing to the field of higher education specifically in teach training related to bias, prejudice and discrimination," the Sister Rose Thering Award will find itself in the hands of the first ever educator to receive the honor. Previous winners include Dr. Ann Saltzman, Director at the Center for Holocaust/Genocide Study at Drew University; Sr. Francis Raftery, President of the College of Saint Elizabeth Holocaust Education Resource Center and now, our very own Heather Lutz.
Her Pascack Hills family is very proud. "Mrs. Lutz is the type of teacher that puts her all into everything she does," said Meagan Todfield, Pascack Hills Senior. "She is extremely passionate about her students and she deserves this award more than anyone I know."
Ms. Kaitlyn Mahaffey, longtime friend and colleague of Lutz, expresses similar sentiments regarding having had the opportunity of teaching American Studies together years ago. "When we taught the Holocaust unit, I learned and continue to learn so much from her. I could not think of another person that is more deserving of the Sister Rose Thering Award."
Award or no award to be won, Lutz intends to instill in her students a desire to do good by themselves first and by others later. Alluding to Randy Pausch's "Last Lecture," she reminds us all that brick walls are there for a reason; they let us know how badly we want something.
Lutz will be teaching five sections of Literature of the Holocaust during the 2016-2017 school year. Within the walls of classroom 132, she intends to discuss the choices we, as people, make each day, encouraging her students to get out into the community as much as possible.
About education, Lutz says, "When you've ignited a passion in a student and they want to continue to pursue that passion beyond school, that's when you know you've done your job."
Leave a Comment