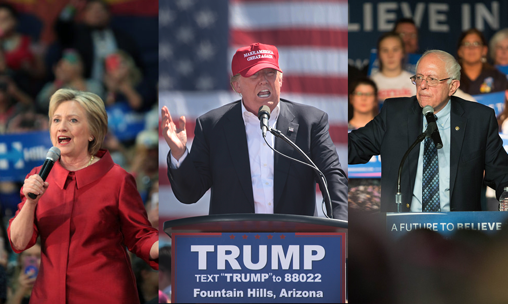 The election field has changed dramatically in the past few months, and Hillary Clinton and Donald Trump are focusing their resources towards the general election.
On the republican side, Trump is on the path to become the republican nominee (currently being called the "presumptive" nominee). After losses in Indiana, both Ted Cruz and John Kasich dropped out of the Republican Primaries. With 1,068 of the 1,236 delegates required for the nomination, Trump will likely get the Republican nomination.
Both Clinton and Bernie Sanders are still in the running for the democratic nomination, but Clinton has a 290 pledged delegate lead and more substantially, a 484 superdelegate lead over Sanders. Following a streak of victories in late March and early April, Clinton prevailed in New York, Delaware, Connecticut, Maryland, and Pennsylvania. Sanders won Rhode Island in April and had a slim victory in Indiana this month.
With Trump as the presumptive nominee and Clinton significantly leading Sanders, opposition to the two presidential candidates is becoming increasingly frequent.
Americans have record-breaking dislike for both Trump and Clinton. A CBS poll shows that 57 percent of voters view Trump as unfavorable, while 52 percent view Clinton as unfavorable. Other polls show these numbers to be even higher, and many are calling for a third party candidate.
Gary Johnson, former governor of New Mexico, is likely to receive the Libertarian party nomination on May 27, and says he hopes his party will be considered a serious alternative. Many in the GOP (Republican Party) are looking toward Mitt Romney to make a third party bid for the presidency due to widespread distaste for Trump within the Republican Party.
Many prominent Republicans such as Senator Lindsey Graham, Mitt Romney, and Jeb Bush have said they cannot and will not support Trump, while others like House Speaker Paul Ryan have said they are not prepared to make a decision yet. There is still support for Trump from many of the previous presidential candidates and prominent republicans such as Sarah Palin, John Boehner, John McCain, Rand Paul, and Chris Christie.
Opposition to Clinton within the Democratic Party is not as fierce, despite her notable disapproval rating among American voters. Clinton's biggest and most uncertain obstacle is the Federal Bureau of Investigation (FBI) investigation pending over her use of a private email server during her time as Secretary of State. It is uncertain whether or not the FBI, whose Director James Comey is a republican, will indict her.
With mounting distaste for both the leading candidates, disagreement within the Republican Party, and a pending FBI investigation against Clinton, this presidential race will likely be especially difficult for both Clinton and Trump.