Robotics team hosts Letter of Intent signing event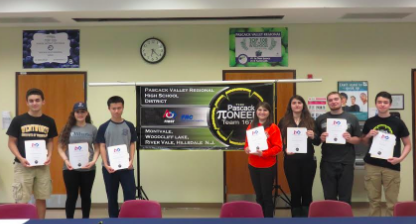 On Wednesday, May 16, the Pascack Pi-Oneers – the Robotics team for students of the Pascack Valley Regional High School District – participated in the FIRST (For Inspiration and Recognition of Science and Technology) Robotics National Letter of Intent Signing Ceremony for their graduating seniors.
The night began at 6:00 P.M. with a welcome by Kevin Killian, the team's head coach and PH math teacher. Wearing their college attire, the seniors went down the row announcing their college, intended major, and scholarships they earned. They then signed their Letter of Intent in a short, but, nonetheless, important, meeting for seniors and underclassmen alike.
The seniors have been team members for three to four years, each accruing nearly a thousand hours of time given to the team, whether it be for outreach, volunteering, or building.
When asked why this event was an important milestone in their high school career, Hills senior Justin Solleder said, "Most people stop playing their sports after high school, and few rarely go on to be pro. But the skills we learned on the Pi-oneers are going to be with us in our future science and engineering careers, thus we always go pro."
Team CEO and Hills senior, Alexandra Capodicasa, said, "Not many varsity athletes who commit to play their respective sport in college go on to become pro. The Letter of Intent Signing Day granted me that opportunity. My dream is to invent the artificial kidney. I am majoring in Biomedical Engineering at RIT, and the Letter of Intent Signing Day marks my commitment to that dream. Putting the pen to paper signifies the next step in my life and beginning of my quest to make the world a better place."
Listed below are the senior team members from Hills and the colleges they will be attending along with their major.
Alexandra Capodicasa: Rochester Institute of Technology majoring in Biomedical Engineering
Chris Hanna: Worcester Polytechnic Institute majoring in Mechanical Engineering
Justin Solleder: Fairleigh Dickinson University majoring in Psychology
Rebecca Spirer: Stevens Institute of Technology majoring in Mechanical Engineering
Kevin Swan: Rowan University majoring in Computer Science
The FIRST Robotics Letter of Intent Ceremony was created with the purpose of recognizing the outstanding effort by high school seniors who have achieved success in FIRST Robotics programs and are choosing to continue with their STEAM (Science, Technology, Engineering, Arts & Math) education beyond high school. Just as Varsity athletes sign for their sport for college, the Academic Varsity Robotics team does the same.
To learn more about the Pascack Pi-oneers visit here.
To learn more about FIRST Robotics visit here.
Leave a Comment