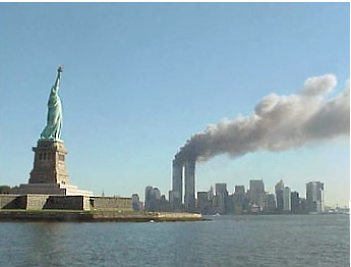 Up until this school year, mostly all of the students who attended any New Jersey high school were alive for the attacks of September 11, 2001. But, even many of those who were alive were too young to recall the events that shaped the future of the country. Many educators are speaking out and asserting how important it is for all Americans to be educated on what happened on that day. Some say that if one was not old enough to recall what occurred during this catastrophic time, he/she is very lucky; but many educators are advocating the importance of understanding exactly what happened and the background behind the events from this significant day.
In an interview done by Kara Yorio, staff writer at The Record, Noah Rauch, Director of Education Programs at the National September 11 Memorial & Museum, said,"They have a general sense that this happened, but it's a historical event to them — it's something that feels very far away. They have a sense that the world changed, but they have no sense of what the pre-9/11 world looked like in a way that they knew what that shift actually meant." Educators are discontent that it is not mandated to learn about our country's arguably most disastrous event of the century. 
As a result of the growing discontent, many are working on a 9/11 curriculum through the New Jersey Commission on Holocaust Education, in collaboration with the National September 11 Memorial & Museum. (Read more about the New Jersey Commission on Holocaust Education and what they do at http://www.nj.gov/education/holocaust/ and the National September 11 Memorial & Museum on http://www.911memorial.org/. As of now, the curriculum includes discussing political and religious discussions, Islamic extremism then and now, the global impact economically, the ensuing wars, the backlash against Muslim communities, the change in security and privacy implications, the huge personal tragedy, stories from first responders, astonishing acts by citizens, and the mission to service afterwards.
Many educators are intrigued and ready to take on the responsibility of teaching a lesson like this. As time goes on, the curriculum will begin to think about what is appropriate to be teaching, with regard to 9/11, at each and every age.
At Pascack Hills, we do not have any mandatory lessons about the day, but it is suggested to be touched upon in class. Unfortunately, this does not always occur.
Pascack Hills student, Alexa Otto, said, "9/11 was never mentioned in any of my classes, but I am curious to know more about what happened on that day."
Sophomore Jenna Chiavelli, said, "I only know the basics about what happened on 9/11 but I would like to know a lot more because it is such a big part of American history and it is from our century."
Joseph Orlak, supervisor of Social Studies and President of New Jersey Council of Social Studies, "I absolutely do [ think student knowledge of 9/11 is crucial]. Not just the day of the event, which is very important itself, but also the events leading up to it. It's a complicated history but it goes back twenty, thirty, even forty years prior to the event on that day. We also need to connect it to events that have happened since then. It is a very important day and a day of remembrance and as years go on, it becomes more and more of a disconnect for students; therefore it becomes more important that we teach it."
Orlak went on to say, "I don't think the state should have a mandated curriculum when it comes to teaching 9/11, but I do know because I worked on these standards that it is part of the course standards in the state of New Jersey. So, a boxed curriculum when it comes to 9/11 I do not believe should be forced on the schools. I think each school has their own unique experience and because of our proximity to New York, it's very different than someone in Cumberland county who is farther away. I think each school should have the opportunity to approach it anyway they want."