Students showcase skills at Talent Night
It was October 19 when the Pascack Hills auditorium filled with students, parents and friends, all gathered for the annual Talent Night. Everyone attended to support the students who would be showcasing their talents at this event.
The Chamber Choir, led by choral director Margarita Elkin, began the night with a performance of "The Long Path." Chamber Choir member, Jessica Strassberg, began the student performances with "Reflection" from Disney's Mulan.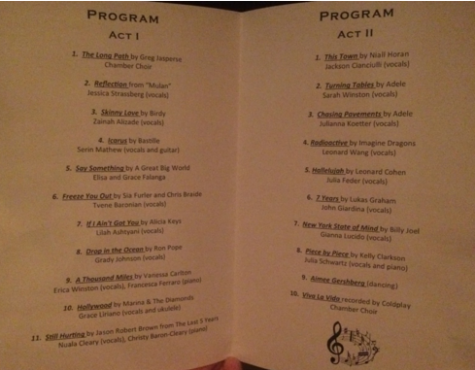 Not only do singers attend Hills, but many students are also instrumentalists. Grace Liriano showcased her musical abilities when she played the ukulele and sang "Hollywood" by Marina and the Diamonds. Junior Serin Mathew also showed her talent when she sang and played the guitar to the Bastille song, "Icarus." Following Mathew was the singing sibling duo of Elisa and Grace Falanga. The sophomore and senior sisters sang "Say Something" by A Great Big World.
Another duo was made up of Erica Winston (vocals) and Francesca Ferraro (piano) who performed "A Thousand Miles" by Vanessa Carlton.The mother-daughter duo of Nuala Cleary (vocals) and Christy Baron-Cleary (piano) blew the crowd away with their performance of "Still Hurting" by Jason Robert Brown from The Last 5 Years.
Senior Jackson Cianciulli sang former One Direction member, Niall Horan's, new song, "This Town." He has been a part of the music program at Hills for all four years, and his performance showed his incredible music ability. Junior Grady Johnson, sophomore John Giardina and freshman Leonard Wang also performed.
The last soloist of the night, Julia Schwartz, played the piano and sang "Piece by Piece" by Kelly Clarkson. Not only were the singing abilities of Hills students represented, but Aimee Gershberg impressed the crowd with her dancing skills. The night ended with the Chamber Choir performing "Viva la Vida" by Coldplay.
Junior Gianna Lucido, reflected on her experience, saying, "I've performed in talent night for the past two years and both years that I've done it, I've loved it. It is always a great way to support all of our friends and to get more involved with music at Hills."
Junior Kerima Soobzokov says, "It was very entertaining to hear everyone show their talents. I especially liked the singing."
Senior and Talent Night emcee, Aslana Soobzokov, says "Everyone who participated in talent night did really well. It was a pleasure to watch them perform."