Meet PHHS Varsity Cheerleading Captain: Jennifer Ryan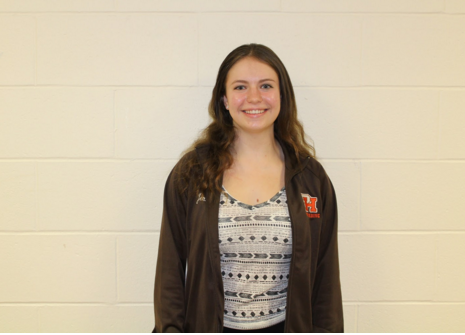 A high school experience at Pascack Hills cannot be complete without witnessing a Cowboys football game. Whether it includes sitting in the bleachers or standing at the top of the hill, a football game is a high school experience that no one should choose to miss. When going to a Pascack Hills Varsity football game, the first thing a spectator might notice is the large amount of people on our side of the bleachers, especially at a home game: the Cowboy Crazies. They sit in the middle of the bleachers in a large huddle taking pictures, shouting at referees, and cheering with the rest of the crowd. Beyond them, there is a sizable group of girls on the track; these are the Pascack Hills Varsity cheerleaders. With their hair high in big bows and large, shiny pom-poms, the Varsity cheerleading team cheer on our football players.
Jennifer Ryan has always been a cheerleader at heart, at least that's what she was told. "As far as I can remember, I've been a cheerleader since first grade. That would make this my 12th year cheering," Ryan recalls. "My mom told me that I went up to her and told her I wanted to cheer. She was totally surprised. I'm assuming at the time it was because all of my friends were doing it, too. Also, my dad has raised me on football, so maybe that's why I wanted to cheer so badly."
After cheering for her local recreational cheerleading team, the MAL Cowboys, up until eighth grade, Jennifer decided that she wanted to be part of the high school varsity cheerleading team here at Pascack Hills. "I wanted to try out to be a PHHS cheerleader, because cheer was something I really enjoyed in MAL and wanted to continue. I wasn't tall enough to keep playing basketball or good enough to keep playing softball, but all you need to be successful in cheer is drive and spirit, which I have a lot of," she explained.
Unfortunately, Jen did not make the football cheerleading team her freshman year, but was successful in making it onto the varsity basketball cheerleading team. "I worked hard towards my try out for the basketball season in the off season that I had from not being on the football cheer team and I was able to make the team. I was obviously upset at first about not making the football cheer team, but I used it as motivation to work harder for the next time," Ryan recounted.
She continued by making it clear that cheerleading is definitely a sport. In cheerleading, the members of the team have to be there for each other. Not to mention that the cheerleaders physically lift their teammates into the air. It overall takes a lot of strength and conditioning, just like any other sport. Time has to be dedicated to learning new cheers, dances, and routines.
Coach Goldman, the head coach of the varsity cheerleading team here at Pascack Hills believes that "Jennifer is a wonderful captain because she has been a part of Pascack Hills cheerleading for four years. She did not make the football squad her freshman year, but with practice, she was able to make the varsity basketball squad that same year. She is hard-working and Jennifer has demonstrated that she can balance her academics with her many extracurricular activities and friendships. She is a cheerleader with heart and great attitude, and she always wants the team to improve. Her great attitude and her school spirit are skills that cannot be taught."
Kayla Vincent, one of the other two captains of the Pascack Hills varsity cheerleading team said that she has known Jennifer since they were both in preschool. "She is an amazing friend. I have been on the team with her for three years. Jen is a great contributor and always looks out for her friends. My one wish for her after she graduates high school is to have a great experience at Wake Forest University."
Beyond the brown, white, and orange uniform; the conditioning; and that rewarding feeling when something hit perfectly,  Jen's favorite part of cheerleading is the games. "I love the spirit and hype of everything, especially when the Cowboy Crazies and the parents are cheering along with us."
Overall, Jennifer would not change her cheerleading experience here at Pascack Hills. "The most important lesson I have learned from cheerleading is to always be optimistic. Even when there's two minutes left in the game and we're being completely shut out, the cheerleaders have to keep going and keep the crowd engaged. We smile through victories and losses, which is a lesson that I take into my own life by always smiling and just being positive about school and life in general. For example, when I get a bad grade, I know that it's just a one time thing and that it doesn't affect my life as dramatically as it might seem in that moment," she pointed out. "Cheerleading at Hills is hard work and pure fun, because cheerleading is so rewarding. For every ounce of effort you put in, it just becomes more and more fun and exciting for everyone."
Next year, Jennifer Ryan will be attending Wake Forest University as a part of their Class of 2021, and will be studying a major in biology. Wake Forest University has a cheerleading team, but according to Jen, she will not be participating.
"Football played a major role in choosing where I will be attending college. I've grown up loving the game, so I chose to go to a school with Division I athletics. Now I get to take on a new perspective and cheer for my team from the bleachers instead!"
Now having to turn in her Hills uniform, Jennifer is definitely emotional. "Ultimately, the one thing I will miss most about being a cheerleader is physically being there on the sidelines to cheer the boys on. It is an unreal experience. Cheerleading is such an amazing sport, and I am honored to have been a cheerleader for these past years," Jen explained.
Jennifer's final message for anyone considering to try out for the Pascack Hills varsity cheerleading team next year is this: "Do it! You won't regret it. The girls are amazing, and you will make so many new friends and learn so much about yourself, too. Plus, you get a free ticket to every football game!"