The Controversy on Hills' School Colors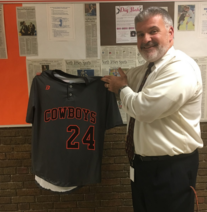 Correction: There have been no formal requests or motions presented to Phil Paspalas or the Board of Education with regard to changing the school colors; therefore there have been no requests or motions to deny.
Brown and white, though undesirable according to a majority of students and staff, have been the identity of Pascack Hills since 1964, and Phil Paspalas, athletic director and assistant principal here at Hills, is determined to keep this tradition.
Although hearing the complaints from students and staff after the first pep rally on September 16, Paspalas has denied requests to change the school colors. He explained that these colors are the foundation of Pascack Hills and to change them, would be unhelpful rather than beneficial.
After the pep rally that was meant to pump up students for the first home football game, controversy circled the school. Students and teachers noticed a decrease of school spirit, and many have begun to point fingers at the school's colors.
"I am on the cheerleading team and I know that a majority of the team doesn't like our school colors. This makes us not very excited to wear our spiritwear to school or even games. Although these colors are a part of our school history, I think sometimes it is hard for the students to have "Hills Pride" when they don't like wearing the colors," Hanna Kimball, a sophomore Hills student said.
"I've never liked our colors to be honest," said sophomore Nancy Chang. "They're very bland, unlike other schools that have colors like red, gold, and blue."
Even the Executive Student Government President, Allie Campana, explained that although school colors don't fully contribute to the Hills spirit, it does affect morale. She says that if we were to have more likeable school colors, more students would be likely to wear them.
However, Paspalas responded, "It's a hard thing to tell kids, 'Hey, you gotta do this. You gotta like this.' But at the same time, we're not just going throw it all out, 50 plus years of tradition, because it's not an easy color."
"The history of the colors go all the way back to when Pascack Valley high school was built and opened in 1955 and the colors were green and white, and Hills opened in '64 and the colors were brown and white," Paspalas continues. "There is a lot of different things that create the identity of the school. But, our colors are certainly a part of who we are, like any high school or college."
After hearing the complaints and motions to change our school colors, Paspalas says, "I know years ago they convened a school colors committee and they made this decision, probably 12 years ago. They talked about changing colors during that time, but they said this is who we are, this is who we will continue to be, and they decided to stay with our [colors] brown, white, and orange." He explains that "school colors can't be something that go with the flow and change with the times," that stability is the basis of building a personality of a school.
With the ability of the printing company nowadays, the athletic department has been trying to incorporate the colors into our school-wear with a trendier and more acceptable approach. "One of the things we've done is brought in a neutral dark gray to offset the colors, so logos, numbers, and letters can still be in our traditional colors, but some uniforms are going to be in gray," discusses Paspalas.
This compromise hopes to prompt students to wear their school colors with pride in a subtle way. Furthermore, Campana reported that though gray is not technically a school color, this neutralizer has helped the student government sell more clothes and she's noticed a lot more students wearing clothes with the new color scheme.
Paspalas says, "People are going to look back upon these days with a lot of fun and a lot of great memories, and brown, white, and orange is going to be a part of that. They'll realize then, how good we do look."