Embracing the Vegan Lifestyle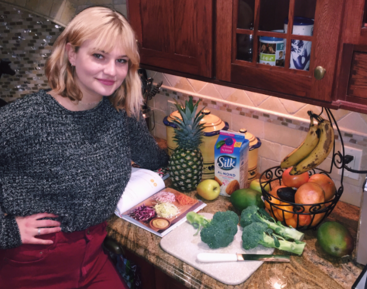 Kailyn Seickel, a Pascack Hills alumnae, is one of approximately one million people who practice veganism.
Veganism is a way of living which seeks to exclude, as far as is possible and practicable, all forms of exploitation of, and cruelty to, animals for food, clothing or any other purpose according to the Vegan Society, a society of practicing vegans who make their best effort to educate people on this lifestyle.
During her senior year of high school, she took a class called Science Ethics and Technology in Society with Dr. James Whitfield. After watching a documentary called, "Food, INC," she began to think about her eating choices.
On her own time, Seickel began to watch documentaries on animal agriculture, food systems, and the environment.  
She says, "Ultimately, after doing all this research, it was the moral values behind veganism that influenced me the most to make the change."
Seickel claims that this lifestyle change "has been the biggest blessing of my life."
A health blog known as the Nursing Degree Network supported the idea that practicing veganism allows the acquisition of both nutritional and physical benefits as well as acts as a form of disease prevention.
In fact, Seickel's health had improved, she had more energy than she could remember, had the benefits of losing a healthy amount of weight due to non-consumption of dairy products.
Seickel says, "Veganism most definitely changed me as an individual. It's helped me become more of a compassionate person in all aspects of my life, not just towards animals, but towards other people as well. It's been very humbling for me and acts as a constant reminder to be gentle and kind to every creature."  
Veganism has brought positive effects into Seickel's life and she enjoys sharing her knowledge with others. According to Bryan Walsh, a senior editor at TIME, many farmers who raise livestock often receive criticism for cruelty to animals and for the danger that they pose to public health by the overuse of antibiotics and pollution.
Also, The American Society for the Prevention of Cruelty to Animals, ASPCA, stated that animals can experience any of the following: cruelty due to cages and overcrowding, physical alterations including teeth-clipping or tail-docking which are performed without anesthetic, indoor confinement with poor air quality and unnatural light patterns, the inability to engage in natural behaviors, breeding for fast growth or high yields of meat, milk, and eggs that compromises animal welfare, neglect of sick and suffering animals often caused by a high ratio of animals to workers, misuse of antibiotics to compensate for unsanitary conditions, and rough or abusive handling by workers.
Seickel has found that many people were interested in the idea of embracing the lifestyle and was happy to educate them on veganism. She would tell people who really care about the environment about how devastating factory farming is to the planet or informed health-conscious people about the benefits of eating plant-based foods. Sharing her knowledge about this lifestyle has influenced people, family and friends, to become vegans and motivated people to reduce their intake of animal products.
Seickel recommends this lifestyle to anyone and everyone. She is glad to say that through veganism, she no longer contributes to the suffering of innocent farmed animals or the destruction of the environment. She says, "Veganism allows you to look at the world with a whole new appreciation for it, and allows you to become the most empathetic and kind version of yourself."