Coach O'Brien Honored In Gym Court Renaming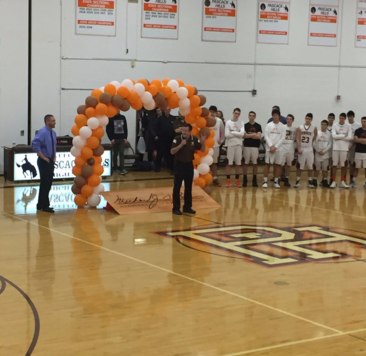 Long-time coach, former athletic director, and former teacher, Mike O'Brien was surprised by the Hills community with a true honor: On Feb. 14, O'Brien was presented with the honor to have his name permanently on the main gym court.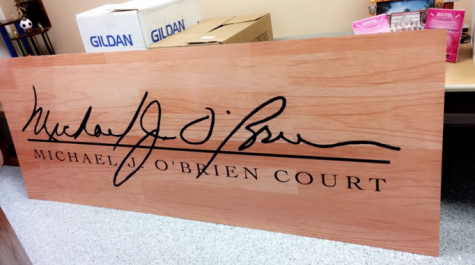 O'Brien, who is also known as OB, has been in the Pascack Valley District since the 1960s and continued to have an active role within. Starting in the district as a social studies teacher at Valley, he later became a basketball and baseball coach. The influence he had as a coach allowed for him to come to Hills as a teacher and athletic director.
Teacher and coach Kevin Kirkby, who called for this dedication, said, "I figured that it would …  be one of those times where it would be nice to give him some of the recognition that I think he deserves and a lot of other people that know about it thinks he deserves."
Athletic director Phil Paspalas said, "As the athletic director at Pascack Hills from the 1980s into the '90s, he had a tremendous influence through the coaches that he hired and through the tone that he set. Mr. O'Brien is the rare kind of person who deserves the honor like this. We are not going to just go running around naming everything in the school for people, but Mr. O'Brien is certainly worthy of having something named in his honor until the building gets knocked down."
Emotions were high leading up to and at the game. Kirkby said, "Mr. Paspalas and I told him [that the floor would be named before the game] and I've known OB since high school and this was the first time I saw him get emotional."
The game started with Paspalas reading a short biography on O'Brien, with peers standing by. After the speech was a short thank you said by Brian Hallowell, on behalf of himself as a father and the Board of Education. The new addition to the floor was unveiled and O'Brien said a heartfelt thank you with not only the staff and current students of Hills surrounding, but also the alumni and past coaches that were all touched by him.
After the unveiling came a nail biting game against the Dwight Englewood Bulldogs. With the Cowboy Crazies in the stands cheering on, Hills rallied from being down 16 points and won 69-67.