"Big Fish" Makes A Splash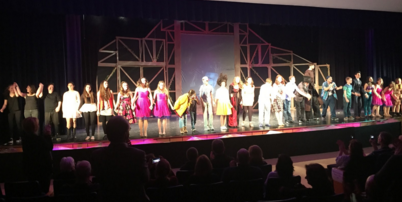 Opening night for Big Fish was successful in every way.  Tickets were almost sold out, the seats were filled with a wave of people, and audience members stopped and gave plenty of praise to the cast with Peter Fournier even receiving praise from the Board of Education after the show.
Big Fish is a bizarre musical about searching for the truth and what it means to tell your own story in life.  It features love, marriage, the strength of family bonds, a dance called the Alabama Stomp,  a witch, a mermaid, a giant, a flooding town, a circus owner with a mysterious secret and, obviously, a big fish.  
The story follows Will Bloom, played by freshman Alex Moss, who has always been suspicious and doubtful of his father's tall tales.  Junior Grady Johnson plays father Edward Bloom, a man who seems larger than life, and is eccentric in manner and with his stories.  These stories include the time he met a witch and learned how he would die to the time he met his wife Sandra Bloom, played by Nuala Cleary, at a circus.  After getting married to a journalist named Josephine, played by Julianna Koetter, he moves to New York and lives a busy life as a journalist and prepares to start a family of his own.  
When Will learns that his father has been diagnosed with cancer, he returns to Montgomery, Alabama with his wife in order to learn the truth behind Edward's stories and learn who his father really is and what is real and what is made up. The play transitions really well between the present day and the past where the audience sees Edward's tall tales unfold.  The songs are sung with a lot of passion and feeling from the cast and the same goes for the music provided by the orchestra comprised of students.   As for the characters, the students perform their roles so well and interact so naturally with one another that it almost feels like the audience is watching an off-Broadway show instead of a high school performance.
"All of the leads got together and went through the script and what each line means to us and how we can relate it to our personal lives," said Cleary about the connections and interactions during the play.   These connections are especially strong between Sandra and Edward.
"I think the performance went incredibly well," said Moss about the play and his performance.  "I was definitely [nervous and excited]. [It was] very stressful but it payed off."  Despite opening night being so successful, Moss said that he expects that the remainder of the performances will have more people and be even more successful with each performance.
Many cast members were buzzing with excitement at the end of the play.  "It was so cool.  I got to be on the inside!" Evan Michaels said.  "It kind of felt like another dress rehearsal but it was cool to hear the audience complement us."  This was Michales' first and last performance on stage at Pascack Hills but he said that it was a lot of fun
Similarly, it was also Zach Solon's final performance with the Pascack Hills Drama Club.   His last role at Hills is Don Price, Edward's friend/enemy from his youth who eventually becomes the mayor of their hometown of Ashton, Alabama.  "I couldn't have asked for a better cast, crew, show, everything," Solon said about the first of his last four performances in high school.
As for the ending of the musical, it's just like Edward Bloom says throughout the performance: "Surprise ending.  Wouldn't want to ruin it for you."