Welc'OM'ing Yoga to Pascack Period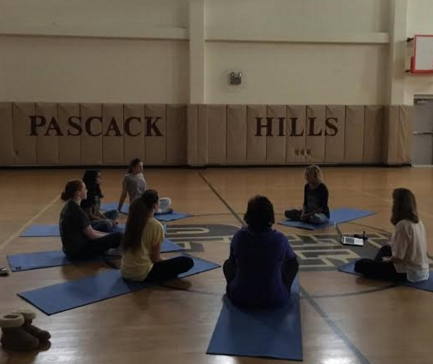 Allison Murphy
March 9, 2017
A yoga session was led by Judy Levin, a yoga teacher at Yoga Synthesis in Ramsey and Chestnut Ridge, on Wednesday, March 1, during Pascack Period. It was held in the back gym at 12:30 p.m. where all students were welcomed to join in on finding their zen.
Judy Levin is a certified and registered yoga teacher (RYT) for both adults and children (RCYT) with over twenty years of practice and ten years of teaching. She said, "Yoga teaches us that we are more than just a collection of muscles and bones – we possess an inner spirit. As our awareness of our body grows, so does our emotional sensitivity. This is when we begin to experience things differently. This is our process of self-discovery."
Levin's three children attended Pascack Hills, and it was "a beautiful step back into the past and a contribute forward" for her.
Freshman Alyssa Ciano spoke positively of the experience, saying, "I thought it was really fun and relaxing. I'm probably going to do it again, because it was a nice break from the stress of school."
The one-hour class was led by Levin herself where she taught the students about how important the breath was not only to doing yoga but to everyday life, as well. The breath allows for a focus to be created and to eliminate the unnecessary thoughts of that moment. This can be extremely beneficial for students that are dealing with stress.
In 2009, the International Journal of Yoga surveyed 800 students as they completed seven weeks of practicing asanas, breathing exercises and meditation, to look at the effect that yoga might have on their stress levels. It was found that the majority of the students had lower stress levels and higher overall academic performance. Yoga can help lessen the stress on the body which thus helps with performing at a higher academic level.
Reduced stress causes a greater sense of peace and yoga enthusiasts better control their emotions, thus lowering the possibility of creating conflict.
"Yoga, itself, promotes good health, relaxation, and wellbeing of the mind. I can't see how that would not benefit a student with all of the pressures they are under," a Hills parent said. "The fact that Hills is incorporating yoga as an option for students during Pascack Period is great because it can be such a valuable amount of time for the students to regroup before moving on with their day. Students should take advantage of this opportunity because it is a positive alternative for students to reach out and do something good for themselves."
Levin also added, "I would love to return anytime, and my intentions in all my classes are to create a space for students to retreat to, kind of like a mini spa in the middle of their day."
Mrs. Franceski is the student and family resource liaison and developed the concept of Pascack Period yoga. She said, "I would love to continue yoga during Pascack Periods and I am excited to share what I've learned through my practice of yoga and during my yoga training with the students."