Hills Students' Success at the North Jersey Regional Science Fair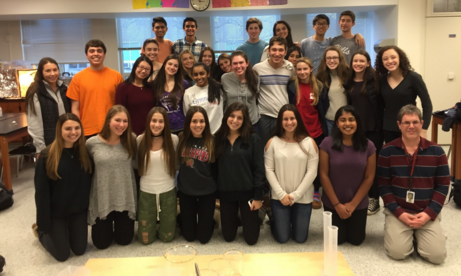 For the 15th year in a row in Pascack Hills history, Martin Edelberg led his genetics class to the Nokia Bell Labs North Jersey Regional Science Fair (NJRSF) on Fri. March 10. The competition carried on from Friday afternoon to Saturday late night, with students returning around midnight with smiles on their faces and trophies in their hands.
The process of getting to NJRSF was not easy; students began preparing two months prior to the event, going through the lengthy process of completing an application, developing a substantial research plan, and designing a tri-fold to present to 10 judges. While preparing either of the three parts of the project, students can be denied by the organization even before arriving at the science fair, raising the bar of competitiveness. This year, 15 of the 17 projects presented by Hills students made it to the NJRSF platform, a relatively high acceptance rate.
In order to cultivate a thorough project for such an ambitious competition, genetics students worked tirelessly for weeks, coming in before and after school to finalize the hypothesis, evaluate the purpose, conduct various experiments, and analyze the collected data. Hills competed in six categories at NJRSF: plant science, environmental science, behavioral science, animal science, biomedical engineering, and microbiology, winning awards in five out of the six categories.
With their project titled The Effects of Bacillus Subtilis on Cover Crop Resistance to Abiotic Factors, the team of Danny Jeong and Celine Aliko took the largest win for Hills when they placed first in the plant science category and advanced to becoming a finalist in the Intel Science and Engineering Fair (ISEF), the international science fair that takes place in Los Angeles with over 200 countries around the world participating, giving a final presentation to an auditorium of people and a panel of 20 judges as finalists.
"We weren't expecting it so when we found out we placed, we didn't believe it at first," says Jeong. "Although we only made it to the symposium and didn't get selected to ISEF, the experience was worth it, even with all the hard work involved."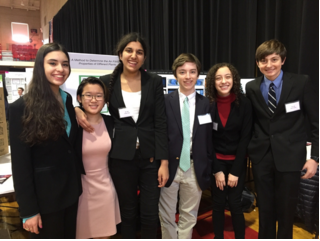 The team of two also placed first in Botany and received a mediology award for their study of tested bacteria and how they impacted the survival rates of different plants that were being stressed under harsh environmental factors. Furthermore, Jeong and Aliko qualified for the International Sustainable World Engineering Environmental Project (ISWEEP), an international tournament taking place in Texas for a couple days in the spring, because of their solution of a growing world-wide issue.
Other wins included Natalia Murillo and Rebecca Volkov placing second in microbiology, Harika Vasireddy and Maya Reddy placing second in behavioral science, Jade Greenberg and Daniela Saljanin placing second in environmental science, Elisa Falanga and Karoline Menze in placing fourth in environmental sciences, and Katelyn Desautels and Simon Castiel qualifying for ISWEEP.  
Filled with constructive judges meant to teach students to continue in sciences and proud classmates, the NJRSF creates a positive atmosphere for students interested in the field of science. Students are busy the whole time they're there with questions and presentations, and although filled with inevitable nervousness, the feeling comes with an element of excitement. Edelberg described the scene of "being on the balcony watching over all of [my] students' presentations and receiving a thumbs up from them".
"Why do students participate in the science fair? Because it's fun of course," states Edelberg. "But also because it gives students the freedom to follow their passion and give their full attention to their project, to see how science is an authentic real practice. Plus, it's very exciting to get judged by professionals in the field and impressing them."
Vouching to continue Hills participation at NJRSF as long as his passion for science and belief that the future of our country depends on leading scientists stands, Edelberg says, "I get so much feedback from students who graduate, who tell me how the experiences at the fair helped them achieve their success. At the end of the day, all is worthwhile for the moment when I get out of a bus at 12 o'clock midnight with a bunch of high schoolers and their smiles."