Holocaust Survivor Ray Fishler Shares Story With Literature of the Holocaust Class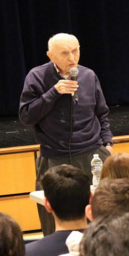 Holocaust survivor and author of the memoir, Once We Were Eight, Ray Fishler, accompanied by his wife, Rhoda Fishler, visited Pascack Hills on Thursday March 30 to speak to the Literature of the Holocaust classes.
Fishler said, "It was the last day of August in 1939. I was sitting on my windowsill thinking what my life was going to be like in a few years."  
That was the day that he heard the German planes and Poland was attacked. His life was changed forever.
His story started with the gradual German takeover in Poland.  As Fishler said, he was "first introduced to human suffering" when he collected wounded Polish soldiers in Krakow, Poland after a battle with German forces. When the Germans took over the Jewish towns and districts, many Jews feared for their lives and safety because of the tragedies that happened to Jews living in Germany.  
During that time, Fishler's father was allowed to retain his position as leader of the Jewish community and his family protected and cared for people during this crisis.  New laws were put in place to strip the Jewish community of their rights. The first law was that Jewish people living in his hometown of Kazimierza Wielka, Poland were not allowed to leave without passes from the Germans.  Despite this, Fishler took trip to provide food and support to Jews from nearby towns who had been relocated.  
He said, "I remember 10,000 Jews crowded on a soccer field like sardines, screaming for food and water."
When the Germans began liquidating the Jews in his town, he told the students that he was sent to a family friend who provided a hiding space for him and his older sister.  Before going into hiding, Fishler told the class his mother's parting words: "If you should survive the war, go to America and tell them what they did to us."
Fishler then recounted his time in the Plaszow concentration camp (the one depicted in Schindler's List) from 1943 to 1945, where his sister died and one of his brothers was sent to another concentration camp.  The camp started out with 25,000 prisoners, but only 400 survived.  Fishler said he "survived by sheer miracle."
In 1945, the remaining prisoners were marched into Auschwitz where he and his father spent the last few weeks of the war.
Two days before the war ended, he and his father escaped the camp and hid in a barn with German refugees, until American soldiers arrived and rescued them.  After the war was over and he was saved, Fishler realized the "incredible losses we sustained" and his joy was short-lived.
Fishler's story ended with his stories about his early life in America, and how he fulfilled his mother's wishes.  He even explained how if it wasn't for his old friend Max that we would never have met his wife Rhoda and how he married her even after considering the feelings of his ordeal.  
The students were given an opportunity to ask questions after his story.  The questions were insightful and reflected the lessons and analysis of the Literature of the Holocaust course.  
One student asked, "What gave you the faith to survive?"  
Another question was, "Do you have anything to remember your home and family by?"  After the questions, a group picture of Fishler, his wife, and the students was taken.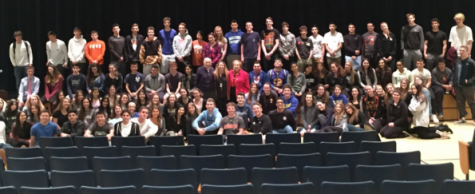 Heather Lutz, the Literature of the Holocaust teacher, said,"I was privileged to go on the March of the Living with Ray two years ago and I knew it would be an incredible experience for the class if they could meet him and hear his story."  
The March of the Living is an annual program where students and adults explore the impacts of the Holocaust and take a silent march from Auschwitz to Birkenau, two notorious concentration camps in Germany.  Lutz said that it was "life-changing, emotionally and professionally" and explained how she brought in photos and items she's collected from the trip to share with her classes.
"In a few years we'll be gone," Ray said.  "They'll be no one left to tell our story.  I hope that I've reached at least a few of you speaking here today and hope you continue to tell our story so no one ever forgets.  Always try to fight for the right thing."