Class of 2017 walks in annual Fashion Show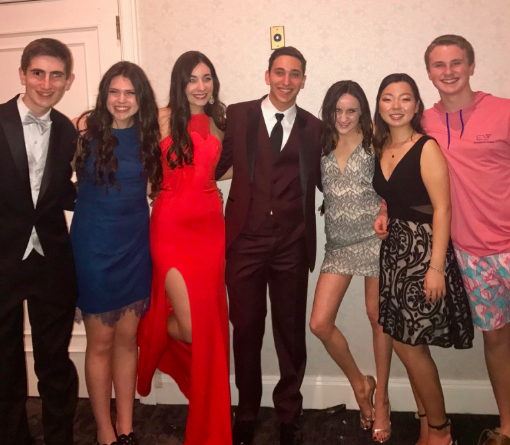 On April 6, the the Class of 2017 traded school hallways for the runway at the annual Pascack Hills Fashion Show. Sponsored by the Parent Faculty Association (PFA) and hosted at the Pearl River Hilton, this show allowed seniors to strut the latest trends from local clothing companies, all while celebrating their upcoming graduation with the support of family, friends, and PHHS faculty.
The PFA worked tirelessly to deliver the Tiffany blue accented Chanel theme. With various chandeliers and references to the famous Chanel perfume, the Hilton's ballroom was decorated with immense and chic detail, which was the perfect fit for this fashion forward affair.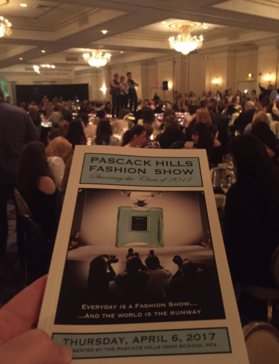 Junior and Fashion Show attendee Caitlin McQuade said, "The colors and decorations used at this event looked extremely professional. Everything from the table decor to the runway itself made me feel as though I was at New York Fashion Week."
The clothing modeled was everything from evening wear to street style. The senior men showcased tuxedos from Biltmore Tuxedo, athletic attire from the PGA Tour Superstore, and casual summer wear from Vineyard Vines. The senior women showed off sophisticated dresses from local shops like Gattinolli and Ginger & Cream, and trendy casual outfits from boutiques like Threads and Femmebot.
Alba Boutique, Barbour, Boubou, Hudson Valley Harley Davidson, Lord & Taylor, Marcia's Attic, Sal Lauretta, South Moon Under, Studio 201, Suite 201, and That Look were among the other companies featured at this event.
The incredible hair and makeup, courtesy of Mania Hair Studio in Park Ridge, New Jersey, was unique to whatever the model was wearing.  
Most importantly, the Pascack Hills Fashion show is an opportunity for the Class of 2017 to create exceptional memories in their final weeks as high school students. Each senior had their own enjoyable experience walking the catwalk with the friends they have made through their Pascack Hills career. 
Senior Jackson Cianciulli said, "The fashion show was bittersweet in the sense that, while everyone looked and felt amazing, it also marked the beginning of the end for the seniors."
Senior Abigail Badway agrees, saying, "The fashion show was such a wonderful experience because it felt like the true beginning of the end; it was both nostalgic and exciting to hear what everyone's plans for the future are!"
As the seniors took their final bow, the ballroom was filled with both applause and chills. This night was certainly one to remember for the entire senior class, as well as an event for all younger Cowboy Crazies to look forward to.
Cianciulli said, "It was easily one of the most memorable nights of my high school career, and I'm excited for the rising seniors and other underclassmen to experience how great of a night it is."