Students Are Put to the Test with AP Testing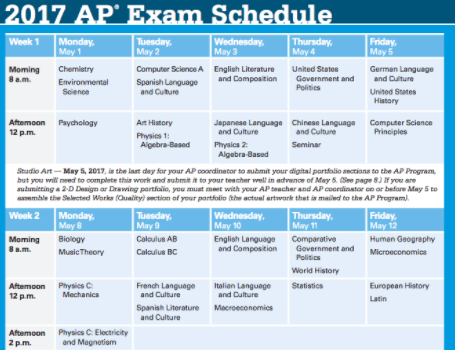 April showers might bring May flowers, but May flowers bring a yearly two-week block of  testing for students in Advanced Placement (AP) courses.  However, the students and teachers of Hills are ready for testing and have prepared either themselves or their students in different ways.  
AP courses are college-level courses that you can take if you are recommended for the class.  AP tests are present to test a student's knowledge of their course to determine whether they will be eligible to receive college credits for enrolling in that college-level course.
Senior Erica Winston, who takes five AP classes but is taking six tests since one of her courses, Physics C, is included in the testing.  She said that her teachers have prepared her in a conventional manner by teaching the material and also gave extra work in the format of the tests.  She also said she feels prepared for the exams but is nervous because of the unpredictable nature of the questions.
"I haven't studied in any particular special way, but I do like to have a cup of coffee before the exam to wake me up," Winston said.
Senior Evan Michaels is enrolled in four AP classes, including AP World History, AP Statistics, AP Environmental Science, and AP Literature.  He said that his teachers have prepared him in different ways.  For example, AP History was a general review of history while AP Literature is all about being exposed to literature.  
"I don't buy any of the AP practice books," Michales said."I try to learn the information instead of memorizing it in the book."
Michales also said that he does not study the day before in order to "clear his mind and keep the information fresh."
Ryan Postman, who teaches AP Statistics and AP Calculus AB, prepares his students using AP exams from past years to further prepare his students.  He said that he prepares them for the tests from the first day and that he wants his students to do their best and feel challenged.
In addition, Postman also grades AP exams and is flying to Kansas City on June 10 for this year's grading.  
Postman said, "The experience of grading them is that you learn so much when you grade so many kids' exams.  You just became more aware of how everyone else is writing."
According to Postman, people grade from 8 a.m. to 5 p.m. with a partner and are divided by tables.
"It's just a positive experience," Postman said.  "You get to meet lots of people."
As for the tests, Postman said that it doesn't matter to him how his students do on the exams.  "I just want them to feel excited about it and feel that it's a learning experience," Postman said.  You're always learning. It's a learning process."
For more practice problems for AP Exams, click here.