Welcoming Wellness to Pascack Hills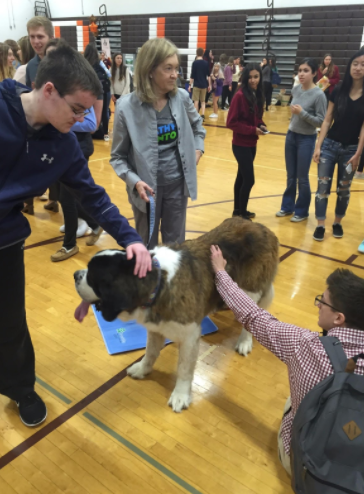 On Wednesday May 10 during Pascack Period, Pascack Hills hosted its first annual wellness fair in the front gymnasium.  The event was dedicated about ways to improve a student's mental health and spiritual health as well as a few ways to improve physical health.
The event was set up by Erica Franceski, a member of the guidance department and the mother of the Campana siblings who all attend Pascack Hills.  Franceski said she was inspired to hold the first annual wellness fair at Hills because of a similar event she attended at Pascack Valley. "I looked at it as alternative ways to reduce stress," Franceski said about the booths and sponsors in attendance.  "The sponsors were eager to come in and tell students about alternate ways to reduce stress and anxiety."
There were a variety of activities for students to choose from and all of them were interactive.
For example, Title Boxing Club in Rivervale hosted a contest to see who could throw the most jabs in 30 seconds.  The winner received two weeks of free lessons while also learning the basics of how to throw a punch in boxing.
There were numerous therapy dogs in attendance and students crowded around the canines.  The dogs ranged from shaggy Saint Bernards to small and rugged pugs.  The dogs sat on mats located around the gym and students were able to pet and play with them.
"I liked the dogs a lot," sophomore Hanna Kimball said.  "I think a lot of students liked them since they were really well-behaved."
There were also live demonstrations and sessions on various alternative wellness methods.
Students lined up to receive a brief Reiki session from professional Reiki masters. Reiki is a Japanese technique used to relieve stress and promote relaxation through cleansing a person's aura.  A session is performed by laying hands onto the various aura points of the body and cleansing its aura.
Students could also learn about acupuncture from Livnat Hai-Choron, a professional acupuncturist, who showed students two pressure points they could apply pressure to for relaxation.
"There's one on your forearm by your wrist and one by the outer rim of your ear," Choron said.
Lastly, there were ten-minute meditation sessions with a representative from the Krame Center, a group at Ramapo College dedicated to alternative wellness styles and mental relaxation.
"Meditation isn't just about relaxation and closing your eyes," representative James Morey said.  "It's also about keeping your focus on one object or sounds and holding your concentration."
Students were also allowed to make their own stress balls out of a balloon and flower, apply for a volunteer job at the Tenafly Nature Center, and try delicious and organic food from Wegman's and the Hungry Hollow Co-op in Chestnut Ridge.
For more information on alternative relaxation methods: