Blood Trucks Park At Hills For Annual Blood Drive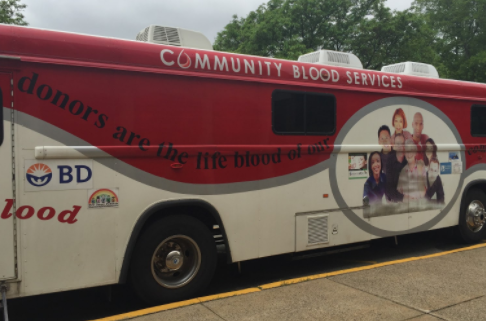 On May 31, two trucks from Community Blood Services pulled into Pascack Hills for the annual blood drive.
"It's always a success because people donate," nurse Rose Welyczko said. She mentioned that despite the turnout being lower than she expected, the blood taken from the donors "will save quite a few lives."
According to the data from Community Blood Services, 45 students and staff members, as well as one parent, were registered and 32 pints of blood were successfully donated.
The trucks arrived outside of Hills in the front parking lot before school started and stayed until the end of the day.  The inside of the trucks have two rows of six reclining chairs where the donors lie and an office where the nurse performs preliminary testing of a donor's blood for hemoglobin count, traces of antibiotics, blood pressure, etc.  If a person does not pass the preliminary testing, they will be unable to donate that day.
Sophomore Natalia Miniatis signed up ahead of time for the blood drive but was turned down.
"My initial testing was fine," she said, "but once I made it onto the bus and went through another set of questioning, I was told I couldn't participate in the blood drive because because I'm currently on antibiotics from being sick."
Students who are approved after testing in the clinic board the bus are ready to donate.  A pint of blood is taken and Welyczko said it takes about an hour of the donation to be complete.  She also said that students have a recovery period where they have juice and snacks, and another period where vitals are taken to ensure the student is okay after his or her donation.
Senior Nick Henrich was one of the successful donors.  He said that the testing was fast and easy for him and that the donation process took four minutes as he watched his blood being drawn.  
Celine Aliko, a sophomore, was also one of the 45 registered donors, and it was her first time donating too.  She said that her donation process was smooth and that she recommends donating blood.
"The blood drive is a great opportunity that the school has to help others," She said.  "So many schools don't have this opportunity and it is a chance to save lives."